Posted on
April 17, 2008

by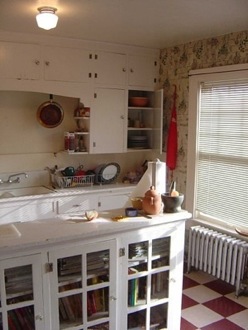 A few weeks ago, while I was researching using lemon as an astringent, I came across a comment about another common kitchen staple that works well to keep skin clear.
I wish I could remember where the comment came from, but I can't. The commenter said she'd been using baking soda to wash her face and it worked really well. I thought it was interesting, but didn't think seriously about trying it. I use baking soda to scrub my bathtub and clean my toilet. It seemed to harsh for my face.
I try a lot of different green skin care products for the site, and to be honest, most of them don't live up to my standards, so, as per my product review policy, I never mention them.
One of the unfortunate results of all of these trials has been angry skin. Lately, I've had issues with clogged pores and pimples, especially around my chin and mouth. It's embarrassing, uncomfortable and frustrating.
Last week, I'd had it. I wanted to take charge and clear up my skin. I felt like a cleanser with some exfoliating action would be my best bet. I was going to head back to the natural foods store, but then I remembered the comment about baking soda and decided to give it a try. Immediately, my skin felt soft. Some of the redness and irritation faded, and my pores looked clearer. The next morning, my skin looked markedly better.
After almost a week of using baking soda as a face scrub, my skin looks better than it has in a very long time. It's clear and smooth. I've always had clogged pores in and around my nose, but they are clearing out and have a much more refined appearance.
Since I got such great results, I decided to see if other people have had the same experience with baking soda. Acne.org has a long list of review from happy baking soda users. Some people complain that it burns a bit, but I think they're using as a mask instead of a face wash. If you're dealing with a big pimple, make a paste with baking soda and a little bit of water to dab on the spot, but don't leave it on for more than a minute or two. Otherwise, just mix about a tablespoon of baking soda with water and use it as you would any other face scrub.  I wouldn't recommend using it as an all over mask, and no matter how you use it, make sure to keep it away from your eye area.
Baking soda is a little drying, so it's important to moisturize after you wash.
There hasn't been any issue with my skin getting worse before it gets better, like there is with some skin care products.  It's been steadily improving since I started this new regimen. I absolutely love that I'm limiting my exposure to chemicals, and I'm thrilled that my new skin care product comes in minimal packaging with minimal cost.