Posted on
September 21, 2011

by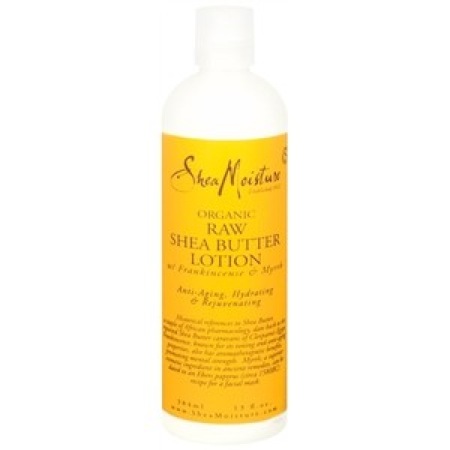 Winter's coming, folks, and you know what that means? Dry skin. For me, it's constant struggle during the cold months to keep my skin from getting dry and flaky, which means I rely a lot on lotion. If your skin needs a lot of help in the moisture department, have I got the lotion for you: SheaMoisture Organic Raw Shea Butter Lotion. 
This super-thick lotion — the texture reminds me of whipped cream cheese — delivers the most hydration of any lotion I've tried. Because it's so thick, a little goes a long way, and the shea butter really gets in there and moisturizes my skin. Unlike some lotions, the moisture sticks around, too — my dry skin doesn't reappear after an hour like it does with some other lotions.
SheaMoisture uses no parabens, phthalates, formaldehyde, synthetic colors, or any other nasty ingredients often found in beauty products. It also uses no animal ingredients at all. Shea butter is a popular natural skin moisturizer, and it's used to treat eczema, psoriasis and stretch marks, which means you can use this lotion for a whole lot of skin problems.
SheaMoisture Organic Raw Shea Butter Lotion retails for $7.99 at Target, Walgreens, and many other stores.
And for anyone with dry or damaged hair, I have a solution for you! Leave a comment on this post and you could win a Deep Treatment Hair Masque and a bottle of Organic Raw Shea Butter Moisture Retention Shampoo. Both are designed to hydrate, smooth and repair your hair and leave it soft and manageable.
To enter the contest, just leave a comment here and tell us what your favorite eco-friendly hair product is. You have until midnight Thursday, Sept. 22, to leave the comment. Then we'll use the Random Number Generator to pick a winner, and I'll mail you the hair masque and shampoo.
Good luck!
This contest is now closed.