Posted on
March 7, 2008

by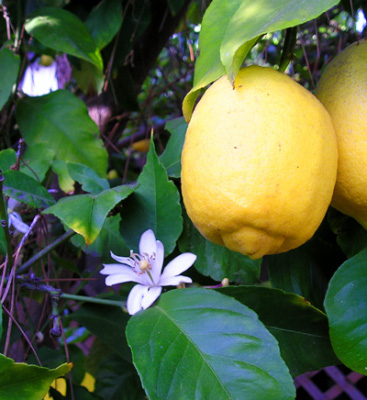 Before you try creams and soaps (in complicated packaging with scary ingredients) to get rid of your pimples, try a little lemon.
Love To Know says:
"Many satisfied users simply dunk their clean fingers in a halved lemon and apply the juice directly to the pimple, reporting its severe decrease overnight. For people with sensitive skin, however, this can be too harsh. The acid can sting and even burn slightly. Mixing the lemon juice with a bit of honey, yogurt, or egg white, however, can help cure the acne while protecting your skin. If you go this route, mix the lemon juice – about half a lemon should do – with a spoonful of egg white or honey and apply as a mask for 20 minutes. Some people sleep with lemon juice mixed with honey on their face, but the mess on the pillow may not be worth the possibility of clear skin in the morning. If you want to use lemon juice at night, dab a tiny bit on with your finger or a Q-tip. Be sure you only touch the pimple itself, or you may wake up with a white spot where the rest of the lemon juice ended up. "
You can also try drinking lemon juice (half a lemon squeezed in a glass of water), to help clear up your skin.  You may want to sip through a straw to help protect your tooth enamel.