Posted on
July 14, 2008

by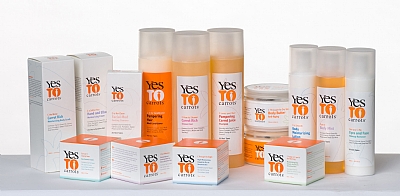 The good folks at Yes to Carrots were kind enough to send me some products to try and share. 
I've talked a lot about alternative personal care products.  It's no secret that I am not a fan of parabens or phthalates or petroleum-based chemicals.  I'll go out of my way to head to the natural foods store to purchase products that are minus the icky ingredients.  But I know that not everyone has a natural foods store near them and many grocery store offerings are less than diverse, which is one of the many reasons I'm excited about Yes to Carrots.  The full line of Yes to Carrots products is available at Walgreens, Ulta, and Duane Reed, (in addition to HSN and the online store).  For information on where to buy Yes to Carrots products outside of the US, click here.
Yes to Carrots products are paraben, petroleum and phthalate free, and the Yes to Carrots lip butters are the first to be certified as USDA Organic.
As you know, I'm usually somewhat spartan in my beauty regimen.  But I've really been enjoying giving myself a bit of pampering.  And I want you to enjoy some pampering too!
I have SEVEN prizes to give away, making this my biggest giveaway ever.  The prizes are:
C the Difference Exfoliating and Soothing Mud Mask (I have two to give away)
Mint C Me Smile Lip Butter
Carrot C Me Smile Lip Butter
Citrus C Me Smile Lip Butter
So here's the deal, every day this week I'll put up a post about Yes To Carrots (this post counts as the first one).Sign in with a valid e-mail address to comment on the Yes to Carrots posts from Monday, July 14th through Friday, July 18th. For each comment, you'll get an entry (one per day, please). The giveaway will close on July 20th, at noon (Eastern), and I'll draw names out of a hat to determine the winners,  Winners will be randomly assigned a prize. The winners will be announced on Monday, July 21st. Comments that appear to be spam will not be counted.
Good luck!
CONTEST CLOSED