Posted on
June 6, 2011

by

Please welcome today's guest poster, Brady Daniels.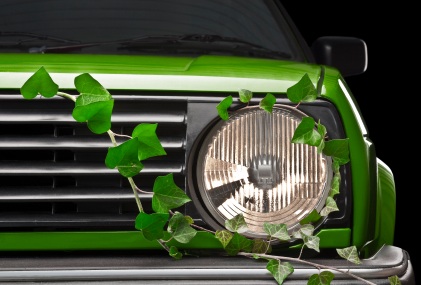 It requires a great deal of energy, namely fossil fuels, to power the world's modes of transportation. Most of us realize that the pollution created by our vehicles damage the environment and cause health problems. Promising new technologies may be the cure, but for now, the world's population can help out by using the most environmentally-friendly modes of transportation available. 
Electric Vehicles
Electric vehicles include:
Cars
Trains
Lorries
Boats
Motorcycles
Scooters
Electric vehicles that are fully powered by electricity don't give off emissions, although emissions may be produced by the power plants producing the electricity. However, the power can come from clean and/or renewable sources such as hydroelectric, geothermal, wind turbines, or solar power.
Hybrid Cars
Hybrid cars rely on electricity as well as fuel engines. Most hybrids recharge the batteries automatically by converting energy during braking. Emissions from hybrid cars can be 25 percent to 90 percent lower than a standard car. The Green Car Club reports that hybrids reduce health threatening tailpipe emissions by 90 percent. The Club also states that hybrid vehicles do contribute to greenhouse emissions, but at a reduced rate. However, hybrids aren't perfect. There is concern about the environmental impact of the batteries. The caustic substances powering the batteries must be disposed of properly.
Green Trains
With the federal government's increased support of the alternative energy field, trains may get greener with hybrid locomotives and other advanced technologies. The new hybrid locomotives use the same technologies utilized in hybrid cars.
Electric trains use either overhead lines, an electrified third rail, or an energy storing device such as a battery or a fuel cell. How fast can they go? France's double-deck TGV's electric train operates at speeds of 200 mph or higher.
The Mercedes-Benz Ciatro G BlueTec Hybrid Bus
The buses use four electrical wheel hub motors along with one of the world's largest automotive lithium-ion batteries. The battery stores energy produced by a diesel generator and also the energy recovered during breaking.
The Mercedes-Benz Ciatro G BlueTec Hybrid Bus lowers diesel consumption, which was already low for Mercedes-Benz hybrid buses, by up to 30 percent, while also lowering CO2 emissions. The Ciatro G BlueTec Hybrid Bus cover sections of its route using only electrical power.
Bicycle
Of course, biking instead of driving greatly contributes to the reduction of greenhouse gases. A good, comfortable hybrid bicycle purchased at a bicycle store costs from $300 to $600. You can purchase a bicycle for about $100 at a big box store.
After you begin pedaling, turn the throttle to get a boost. Only light pedaling is required. U.S. law limits the speed of electric bikes at 20 mph, so in most states you're not required to obtain a special license, registration, or insurance.
Electric Motorcycles
Electric motorcycles don't produce pollution — they're powered by batteries. However, pollution may be created by the production of the grid power used to charge the batteries.
The average electric motorcycle costs a little under $7000. Some electric motorcycles such as the Brammo Enertia have many components made from recycled materials. The Enertia Plus Electric Motorcycle, made by Brammo, gets 80+ miles per charge in urban commuting.
Several prototypes use fuel cell technology. Perhaps one day these motorcycles will be mass produced.
It's not an easy task convincing the world's population to change their "mobility behavior" towards environmentally-friendly modes; however, slow progress is being made.
Brady Daniels is a member of the Motorcycle Insurance Quote writing staff. He writes feature articles about a variety of topics related to motorcycles.