Posted on
June 25, 2009

by

Please welcome today's guest poster, Chris. Chris is a lecturer at a university in Australia and blogs at A Free Man.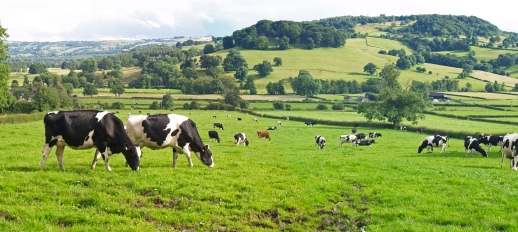 I am a committed carnivore, some might say a fanatical one, so this is going to be a difficult post for me to write. I've been thinking a lot about food lately and I'm slowly coming around to the conclusion that we're doing not only ourselves a lot of harm with our gluttonous Western diets, but the planet as well.
I'm behind the curve on this one, as there has been a fair bit in the mainstream press and the chatterbox commentators about cow farts and global warming. As is typically the case with the TV 'news' personalities, a lot of this talk is the oversimplification peddled by ill informed idiots misunderstanding complex science. Let's start fresh and leave this particular story aside. In fact, let's leave climate change in general aside. I'm a geneticist, not a climatologist, and I don't know enough about the topic to get into it in any real critical analysis.
But I think that we can probably all agree on some simple things. We can probably all agree that we need to be careful in terms of water use – particularly if you live in Australia, for example, or the Western United States. I think we can all probably agree that energy conservation is a good idea, that pesticide and fertilizer use should be minimized as should the amount of waste we generate as a species.
All on board? OK.
When I don't know what is going on, when I can't tease the facts away from the politics and ignorance – I put my scientist hat on and go to the primary scientific literature. In a recent issue of the American Journal of Clinical Nutrition I found a paper addressing the topic at hand – "Diet and the environment: does what you eat matter?". A group at Loma Linda University (California), led by Harold Marlow, compared the environmental effects of vegetarian and non-vegetarian diets using a number of different parameters.
Their findings are not good news for the meat lovers among us.
The Loma Linda group first compared the diets of vegetarians and meat eaters and then gathered information about the production of these food items – what it takes to grow a grapefruit, for example. They used this information to calculate 'use efficiencies' for water consumption, energy used, pesticides applied and fertilizers applied. These use efficiencies allow us to estimate the environmental cost of producing fruit juice or beef for human consumption. Marlow's group then made the comparison between the two diets by expressing these costs as a ratio of non-vegetarian to vegetarian effects. If the ratio was high, that means that the meat eater's diet is more environmentally costly. If the ratio is low (less than 1) that the vegetarian diet is more environmentally costly.
In almost every case, the non-vegetarian diet was much more costly. A non-vegetarian diet requires thirteen times as much fertilizer as a vegetarian diet. Chemical fertilizers are made up largely of phosphate, potassium and nitrogen. The first two elements are currently derived from non-renewable resources and the latter requires a heavy input of petroleum. Beyond that, heavy use of chemical fertilizers has resulted in water contamination, air pollution and loss of biodiversity.
Similarly, meat eaters use three times as much water to generate their dinner. Water availability is becoming a major issue in many parts of the world and for me personally, this finding is the most disturbing. There are whole swaths of formerly arable land in Australia that have been rendered useless due to dry land salinity caused by irresponsible agricultural practices. Marlow's group calculates that switching to a vegetarian diet would conserve the equivalent of 54% of an average household's weekly indoor water consumption or about 1,000 litres of water a week.
Perhaps the most immediate source of concern, however, is primary energy input. This is the amount of total energy required to grow your food and get it to your dinner table. A non-vegetarian diet requires 2.5 times as much energy to produce as a vegetarian diet. Most of this energy comes from fossil fuels and in the U.S., fossil fuel consumption has doubled in the last 20 years while the caloric return per calorie of input on most crops has diminished – it is taking twice as much fuel to produce the same amount of food. Most cereals and legumes provide 2-3 nutrient calories per calorie of primary energy input – this is a good solid energy investment. Fruits and vegetables usually get around 0.5 calories of nutrient energy per calorie of primary energy input – these cost more in energy than what they return, but still a pretty good deal. Meat, however, returns 0.01 – 0.05 calories per calorie of input energy. In short, meat costs us a lot of energy to produce and doesn't provide much in return.
There's a tidbit of good news for those of you who, like me, love nothing more than a good steak on the barbie – there was only a negligible difference in pesticide use between the two diets. Small comfort.
This is not the first of these studies to be undertaken. In 2003, another study in the American Journal of Clinical Nutrition found that a non-vegetarian diet had twice the environmental impact of a vegetarian diet. There was an exhaustive study in The Lancet in 2007 that got the ball rolling regarding the connection between modern livestock practices and an increase in greenhouse gasses, finding that livestock production accounts for as much as one-fifth of total greenhouse gas emissions. What I like about the current study, however, is that it breaks things down into easily digestible morsels. It simply costs the planet more for me to eat meat.
So what to do about it? Marlow's group talks about ending agricultural subsidies and installation of more efficient water fixtures and diverting funding to research. But change, despite what you may hear on the television, probably has to come from the ground up when it comes to the environment. The primary problem in environmental terms is beef. So, eating more poultry or fish would be a start. The authors of The Lancet study suggest that a meagre 10% reduction in the amount of meat that we consume would have a beneficial effect on the environment. My family has started eating at least one vegetarian dinner a week and if I can do it, I'm pretty sure that anyone can.