Posted on
December 1, 2008

by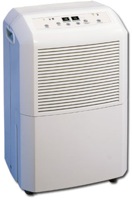 We run a dehumidifier in our basement to keep things dry, and I hate to pour that water down the drain.  In the past I've suggested using it to water the garden or lawn.  But I don't have enough house plants to put all that water to good use.  Here's another idea for emptying the dehumidifier. 
If you run a dehumidifier in your house, you can use the collected water from it to flush the toilet.  Right after you flush, instead of letting the tank fill up again by itself, carefully empty the water from your dehumidifier collection bucket into the tank to the correct fill level.  There's no need to use drinking quality water for every single flush.
Don't forget to outfit your toilet tank with a brick or soda bottle filled with water to make it low flow.  And don't forget to flush selectively.