Posted on
August 12, 2009

by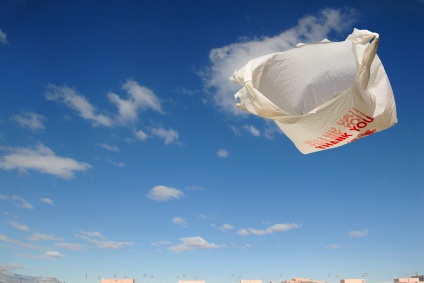 You don't have to be an environmentalist to see how many plastic grocery bags are being used out there. In this age of growing environmental awareness, more and more people are turning to reusable bags or, if you're like me, no bags at all. (When I'm paying for groceries, I tell the bagger to just put everything back into the cart just like it was, then I load everything into a box I keep in my trunk. When I get home, I just carry the box inside. This occasionally elicits some strange looks, but since I'm rarely concerned with impressing the grocery store cashier, I don't care.) But plastic bags have become so commonplace that most people can't imagine grocery shopping without them, and this is creating a lot of waste in our landfills.
In Seattle, voters are facing a choice on Aug. 18: Do they want to uphold a surcharge on plastic bags? Last year, the city council imposed a charge of 20 cents per bag, but since then the American Chemistry Council has launched a petition drive that is forcing the issue to a ballot.
In one corner are the environmentalists, who say the abundance of plastic bags in the trash has created a "great garbage patch," a huge chunk of non-biodegradable plastic that is swirling around the Pacific ocean. They also claim that only 20 to 30 percent of Seattle shoppers use reusable bags — a much higher percentage than other cities — and even those who have bought reusable bags don't necessarily use them all the time. Plenty of people keep bags in their cars but forget to bring them in the store with them, but faced with the possibility of paying extra for groceries, people would be much more likely to remember.
In the other corner is the plastics industry, who see this more as a 20-cent "tax" on plastic bags. The ACC has put up about $1.4 million to fight this surcharge, saying the financial burden would hit poor shoppers the hardest. There's also the added concern of which government bureaucracy would oversee the surcharge and, if none are able, if a new agency would have to be created. Besides, says the plastics industry, these bags only make up less than 1 percent of the city's garbage, so our efforts would be better used in other matters.
Let's also remember that plastic bags are often reused to hold the garbage itself. When I do get bags at the grocery store, I reuse them in small trash cans around the house. If these were taken away, would people start buying other small plastic bags to line their trash cans? Is that really a better solution? 
What do you think? Do you use plastic bags? Would you support a surcharge on them, or is this a terrible idea? Do you think that a surcharge would lead to more people using reusable bags?