Posted on
September 20, 2010

by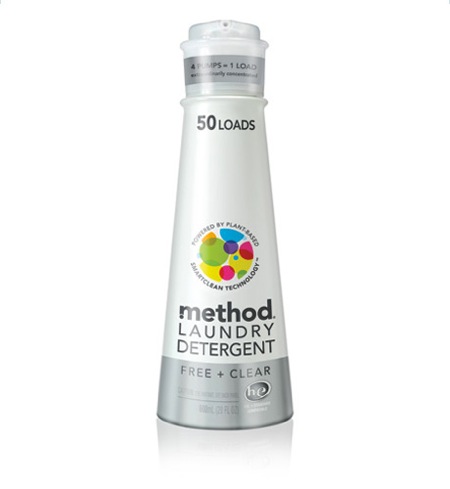 I'm a big fan of Method cleaning products. They get the job done and they come in cool packaging, which I'm a complete sucker for, and I really like the company and its whole "people against dirty" mission. I like Method hand soap and its teardrop-shaped pump bottle so much, I kept the bottles as permanent fixtures in my kitchen and bathroom and now buy the refill packages whenever I run out of soap.
So when I saw that Method now makes laundry detergent, I knew I wanted to check it out. (Plus, look at that cute bottle! I am a marketer's dream.) But to be honest, I had my doubts that this one bottle would provide me with 50 loads of laundry, as it promises. It just doesn't look like enough to cover 50 loads.
Well, I'm pleased to tell you that I was wrong. I've now gotten 46 loads out of this bottle, and there's easily enough for at least four more. That adds up to more than 50 loads, and it's already lasted me for months!
(How do I know this, you ask? Simple: I kept track. Every time I did a load of laundry, I made a tally mark on the side of the bottle. See?)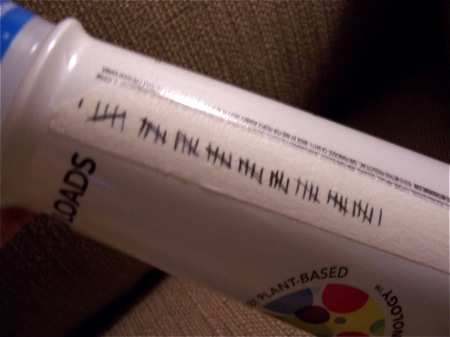 This detergent is packaged unlike any other I've seen, but don't be weirded out by it. All you have to do is push down the top and the detergent squirts out — four pumps per load of laundry. My clothes come out perfectly clean and smelling great. Right now Method offers scents in Fresh Air or Peony Blossom, or if scents aren't your thing, you can opt for the unscented Free and Clear.
Most of all, I love this detergent because it involves way less packaging than other brands. You know how big and heavy those jugs of detergent are when you're trying to haul them out and pour a cupful into your washing machine, right? This bottle is a heck of a lot easier to deal with, and it's made from 50% recycled plastic to boot. I don't think I'll ever go back to detergent jugs.
Method laundry detergent retails for $15.49 on Method's website, or you can find it at Target, Lowe's, and many other stores.