Posted on
December 28, 2010

by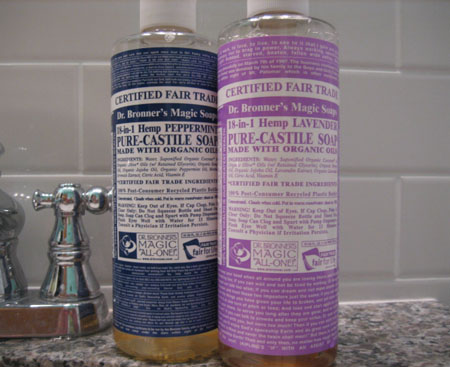 One of the best parts of being a Greenist is getting to hear from all of you!  We love it when a good discussion starts in the comment section of one of our posts.  Here are the posts that got everyone talking the most:
What's the Deal with Castile? – Stefanie's great post about Castile soap and its many uses lead to a bunch of comments with household hints and tips!  Do you use Castile soap?  Have you made your own laundry detergent before?
Cape Cod's Offshore Wind Farm: Yay or Nay? – Courtney's post drew lots of comments in support of wind farms, as well as a commenter who worried that windmills would ruin the view.  What's your take on offshore wind farming?
Preserving Your Summer Bounty – Dianne, our Greenists guide for all things food, gave us her tips for preserving food from the garden for winter, and lots of people commented with their favorite foods to can and freeze.  Do you freeze, can, or dry food for winter?
Method Laundry Detergent – Courtney tested Method Laundry Detergent's claim that one little pump bottle held enough detergent for fifty loads of laundry, and Method passed the test!  Courtney isn't alone in her love of Method's Laundry Detergent.  Lots of people chimed in to say how much they love the stuff too!  What detergent do you use to launder your clothes?
Maggie's Organic Clothes – I had so much fun testing out the clothes Maggie's sent me, and everyone was surprised by how reasonably priced these fair-trade, organic clothes are!  Have you tried Maggie's clothes?  Do you have a favorite ethical clothing brand?
What's so Great about Soy Wax? – Stefanie gave us a lesson on the differences between soy and paraffin candles and a review of M. Carlesimo candles, and got a discussion going about organic soy, beeswax, safe candles for use around birds, and more.  Do you burn candles at home?  What kind do you use?
Save the SunChips Bag! – Courtney's call to action to save compostable SunChips bags got lots of feedback from supporters of the bag.  And don't forget to sign our petition to Save the SunChips Bag!
Sea Shepherd: Heroism, terrorism or imperialism? – A Free Man's post about the more extreme side of environmental activism drew lots of heated discussion.  What's your take on the methods the Sea Shepherd employs to try to stop commercial whaling?
Thank you so much to all of you who took the time to comment on our posts this year, adding your opinions to the discussion!  We love hearing from you, and hope you'll keep commenting in the future!  And for those of you who haven't commented on a Greenists post, what are you waiting for?  We don't bite.  Promise.