Posted on
May 30, 2011

by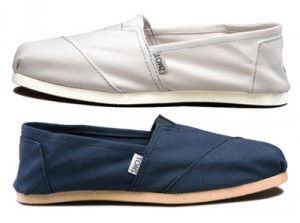 I ordered my first pair of trendy TOMS shoes about a year ago, a pair of the classic style made from burlap. Even though I know some people wouldn't agree with me, I like the simple, loafer look of them. Plus, TOMS sells some vegan styles and promises to 'use earth- and animal-friendly materials whenever possible.' The kicker about these kicks, of course, is that for every pair of shoes purchased, TOMS gives a free pair to a child in a need somewhere in the world. When I received my shoes, I was struck by how comfortable they were on top of all the other benefits.
Are they too good to be true?
I started to wonder that after the burlap started to unwravel around the soles after just two weeks of wear. For $54 a pair, I expect my shoes to last far longer than two weeks, and how green can they be and how useful are they to children in developing countries if they're falling apart that quickly? I did what I do anytime I have questions like this, I turned to The Google to see if others had asked and answered similar questions. What I found were mixed reactions.
Many have complained about the shoes quickly falling apart and have the quality of a $5 pair of shoes. Others have questioned TOMS manufacturing standards, though according to the company's website TOMS 'requires that the factories operate under sound labor conditions, pay fair wages and follow local labor standards.'
What piqued my interested the most were discussions about whether TOMS practice of giving shoes to children in developing countries did more harm than good. It's easy to think: free shoes for those who need them = good, but do offering free shoes undermine local merchants and shoemakers who are trying to make their own living wage? Do they do too much to encourage a cycle of dependancy? Would TOMS' efforts mean more if they offered support to shoemakers and sellers in developing areas rather than giving shoes away for free?
I can't say I have answers for these questions, and it may be impossible to come up with any without a significant amount of research or time spent engaging the company itself (and it's privately held, so good luck with that!) I do like to make well-informed decisions about green products and giving, though.
What do you think about TOMS shoes and their efforts to give away shoes? What about their quality? Would you buy them?