Posted on
January 25, 2011

by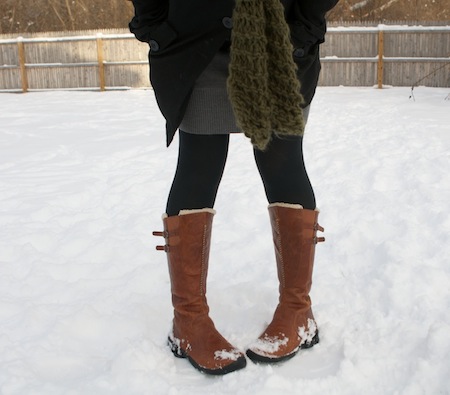 I live in Rochester, NY.  Snow is often in the forecast here from October to May, and good boots are an essential part of staying warm and dry.  But I hate boot shopping.  With a vengeance. Trying to find boots that will fit over my ginormous calves is not my idea of fun.  I frustrate sales people, I frustrate myself, and I always walk away empty-footed handed.  For the past three or four winters, I've been wearing my hiking boots when it snows, because the idea of going to the store and going through the boot shopping process is almost more loathsome than bathing suit shopping.
When Planet Shoes offered to send me a pair of boots from their Eco Shop to review, I warned them about my ginormous calves.  They suggested I try the Keen Bern High Boot in Crouton.  I've been wearing a pair of Keen slip-ons as my primary shoes since 2008, and they are still in fighting form.  I love how durable and comfortable they are.  So, I agreed to give the Bern High Boot a try, even though I suspected they wouldn't fit my problem calves.  I have never been so happy to be wrong before.  Not only did they fit, but they are fabulous.  
Planet Shoes sent the boots to me in a cardboard box with only the shoe box enclosed – no extra packaging or plastic (other than the tape on the box).
I was on the treadmill when the boots arrived.  I stopped to grab the package, and when I realized that they fit, I jumped back on the treadmill and walked another two miles at an incline to test them out.  There was no break-in period.  These boots are seriously comfortable.  So much so, that I didn't want to take them off, so when J came home, I was on the couch reading in sweatpants, my ugly writing sweater, and my new Keen boots, looking utterly ridiculous.
But the next day, when I met a friend for coffee, and did a little shopping, I wore them with a dress and looked entirely not-ridiculous.  I actually got stopped by a complete stranger who wanted to know where I got my adorable boots!
They're warm enough to keep my toes from freezing while I'm outside, but not so warm that my feet start frying when I wear them indoors.  They add a little height, but without any loss of stability – so important on icy sidewalks!  They're water-resistant, and clean up easily.  I love the stitch detail on the front, and the side buckles.  They also have an inside zipper to make them easy to put on and take off.  And most importantly, I love the fit.  They fit my feet AND my calves!
The footbed is Keen.Cush, which is "a blend of recycled PU, cork, and memory foam that contours to your feet and adjusts to give you the cushioning you need throughout your day."  Keen makes durable products, with concern and respect for the environment and community, and since 2004 has distributed more than $4.5 million to causes in line with their company mission.
When I get products to review, they have to pass my would I buy these? test before I'll post about them,* and I would absolutely buy these boots.  I'm obsessively watching the site, hoping that they'll get a pair of black Bern High Boots in my size in stock.  I also really enjoyed browsing on the Planet Shoes Eco Shoe Shop.  They have a huge selection – currently, 1,056 styles – in the Eco Shop alone, and lot of neat brands I haven't seen anywhere else.  They have a Made in the USA shop as well, and the categories on the site make it easy to find what you're looking for.  The Bern High Boots are leather, but if you're in need of vegan shoes, you can easily find them at Planet Shoes.  The product photos and descriptions are great (and were very accurate for the Bern High Boot).  Many of the style descriptions includes video of models walking in the shoes, so you can see how they move and fit before you order.  Not only would I buy these boots, but I also plan to shop at Planet Shoes in the future.  These are making me long for summer.
*We have a strict
if you don't have anything nice to say, don't say anything at all
review policy at The Greenists, so while Planet Shoes sent me these boots to review, I was under no obligation to post about them or Planet Shoes, and my opinions are my own.