Posted on
March 3, 2011

by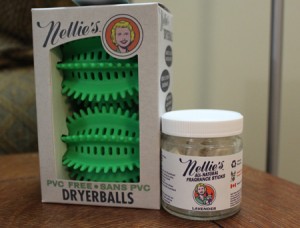 Have you heard the rumor that dryer sheets can repel mice?  Mosquitoes?  Even bees?
Although the evidence of this rumor is shaky at best, it seems like a good idea to question an item claiming to have the ability to repel animals, especially if that item is used on clothing and, as such, leaves chemicals behind that are in prolonged contact with your skin.
But what would you use if you didn't use dryer sheets?
Well, time to consider Nellie's Dryerballs.
Nellie's Dryerballs are reusable plastic balls that are added to the dryer in lieu of dryer sheets.  They claim to: soften fabric naturally, reduce drying time, have no chemicals, reduce lint and wrinkles, and reduce ironing.
I purchased mine in conjunction with a pair of reusable dryer sheets last November and haven't looked back!
Coming from a multiple pet household, our family seems to have a never ending pile of towels, dog beds, and comforters in need of washing.  Even with our new dryer that is meant to 'sense' when laundry is dry, these bulky items would often dry on the outside but would still be wet in the inner folds.  Not anymore!  The dryerballs do succeed in reducing drying time, but more important in my book, they almost always prevent the problem of sheets or towels wrapping around themselves- making items not only dry faster but also more completely!  In that sense, I believe the items are also less wrinkled and in less need of ironing if removed from the dryer right away.   Unfortunately, I am the person who forgets anything is in the dryer and is surprised to find it a couple days later when I go to dry my next load- so wrinkles are something I'm used to living with.
As for the other claims, I've never had an issue with fabrics not feeling soft enough, and I didn't notice a difference when we switched to dryerballs.  However, even with the reusable dryer sheets, static cling was slightly more noticeable in loads with troublesome fabrics- i.e. my husband's wool socks.  We've always had trouble with these items, though, and the addition of the dryer sheets did help.  I've also found the dryerballs work best with full loads of laundry- but we're all doing that anyway, right?  But if you do try to use them in small loads, they can make quite a ruckus as they bounce around in a less-than-full-dryer.
Want to give your own dryerballs a try?
Well, the gracious people at Nellie's All Natural are offering a free giveaway of Nellie's Dryerballs.  Just 'like' Nellies All Natural on facebook and return here to leave a comment telling us you did so.  A winner will be picked by random number generator and posted on Tuesday, March 8th.
One last word of caution: if your husband is as childish as mine, he will snicker ever time you say "dryerballs."   You've been warned.