Posted on
August 5, 2010

by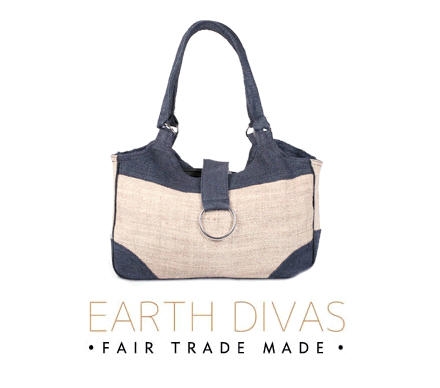 Does anybody here remember that I'm the Greenist who's supposed to talk about green cleaning? That's OK; I nearly forgot, too. Sorry, folks, but I've had soy candles to tell you about! And book release-related local drinking to do! I'll get back to the green cleaning tips eventually, but first, let's do one more product review.
A while ago, a representative from Earth Divas fair trade handmade products contacted me, asking if I'd like to give one of their handbags a test drive. I'm no Carrie Bradshaw, but I'm still girlie enough not to turn down a new bag, so I happily let them send their blue and natural hemp shoulder bag (shown above) off to me.
Earth Divas sells bags and accessories that are handcrafted in Nepal by working women's co-ops and small, woman-owned cottage industry producers. Working as artisans for Earth Divas provides women who would otherwise have few employment options a safe career path that pays a comfortable living wage. (Earth Divas' artisans are paid 30% or more over their local wage rate, and the company returns its profits to the workers at the end of each year in the form of a bonus check.) Working with Earth Divas allows these women to feed their families better food, buy clothing and other necessities, and send their children to school. This, in turn, affects the entire village in a positive way.
Most of the Earth Divas bags (like the one I received) are made from high-quality, sustainable hemp, which grows wild in the Himalayan foothills and is harvested by hand. (Other bags are made from organic cotton or recycled silk.)
I've been using my new Earth Divas bag as my primary handbag for over a month now, and I'm totally a fan. It's a cute casual bag perfect for summer, and it's got plenty of pocketed and zippered areas to hold all my assorted necessities. My only caveat (which I mention only to prepare you, should you decide to purchase one of the company's fine products for yourself) is that it did have a rather strong, shall we say… earthy scent to it when I first took it out of the package (a side effect of the natural fibers, I presume), but after a few days' airing out, that smell was a distant memory. The bag has held up really well, with no signs of weakness or fraying, and it's softened nicely (but not worn down) with continued use.
Overall, Earth Divas seems to me a great company that sells great products for a great cause. I'd love it if you visited their site and found something you simply had to order for yourself. In fact, as an added incentive to check them out, the company has offered to send one lucky Greenists reader a free Earth Divas bag of their very own. That lucky reader could be YOU!
To enter, simply check out the wide array of Earth Divas handbags and leave a comment below telling us which one you like best. (There are lots of them, and their names aren't in all cases super unique, so you might be best off copying and pasting the product page's URL in your comment, or TinyURL-ing it for us.)
For extra chances to win, you can also tweet about their products and/or follow Earth Divas on Twitter or Facebook. (Just swing back here leaving another comment to let me know you did so.)
We'll draw a winner a week from today (on Thursday, August 12), so get your entries in before 12:00 am Central time that day. Good luck!
Note: Contest is now closed. Thank you!