Posted on
September 8, 2010

by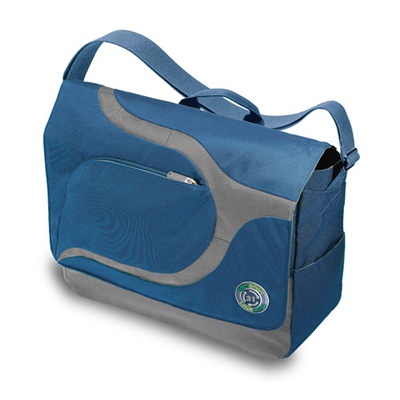 Every year around the end of August I get myself all in a tizzy about finding a new bag to bring to school. I have very specific needs and wants; it has to be big enough to lug around six classes worth of research projects, plus my gradebook, lunch, water bottle, and professional review magazines. I need to be able to carry my laptop when traveling. It needs to have enough compartments for writing utensils, hair ties, flash drives, and keys. The strap needs to be long enough that I can carry it slung low by my waist, but it also needs to be adjustable, because I am nothing if not totally fickle.
This August I received an email from GreenSmart asking me if I would like to review their bags. Despite my intense bag requirements I agreed to try them out. And since the people at GreenSmart are lovely they sent me not one, but TWO of their recycled bags to test. I chose to use the Baringo messenger bag as my school bag because it's spacious and comfortable to wear, plus it came to me in a snazzy blue with orange interior. I've already had compliments from a bunch of teachers! But the best part about this bag, in my opinion, is that it was made using 31 plastic bottles that were broken down and made into fabric.
They even have a breakdown of how 100% of the fabric is made from plastic bottles. Fascinating! And surprisingly soft.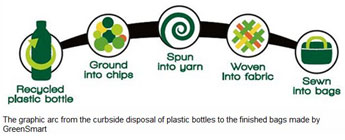 No joke, I told my principal about the recycling process after he complimented me on the bag and I could practically see the admiration sparkling in his eyes. Way to make me look good, GreenSmart!
But the love didn't stop there. I also tested out the Mandrill backpack (in olive) during our long weekend trip up to Maine. It seemed to be a great size for travel and has a separate back compartment for your laptop, which always comes in handy. This bag uses an even 40 plastic bottles to create the interior and exterior fabrics. It doesn't hurt that it's a good-looking bag, either!
Because they are delightful, the people of GreenSmart have agreed to give away one of their awesome bags to one lucky winner. All you have to do is check out their website and leave a comment about which of their products would suit your green lifestyle best! Please also mention which color you would prefer, unless you want me picking for you (I mean, we all know I have awesome taste).
One person will be selected at random from the comments section. Comments that will be included in the contest will close on Wednesday, Sepember 15th, 2010, at 11:59 pm, EST. Good luck!