Posted on
April 28, 2010

by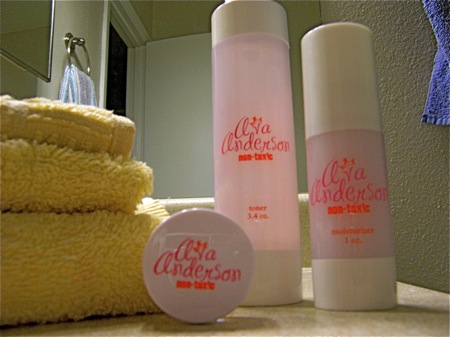 Did you know that most brands of makeup and skin care products contain toxic ingredients that can cause cancer, reproductive problems, disruption of the endocrine system, allergies, and a whole mess of other nasty problems? It's true. All it takes is a little experimenting with the Cosmetic Safety Database to see how many parabens, phthalates, formaldehyde, and other icky ingredients are found in the beauty products you see in corner drugstores. Cosmetics are not as heavily regulated in the United States as they are in Europe, which means if you care about your health, you should be careful and read those labels before rubbing anything on your skin.
Fortunately, there are some responsible and eco-friendly beauty experts out there who are producing makeup and skin care lines that are safe and make us beautiful. One such beauty expert is Ava Anderson, who has launched a non-toxic skin care line that scores a big fat zero in the Cosmetic Safety Database's toxicity scale. That means nearly every one of her products is completely safe for everyday use, so your skin can be healthy and glowing without the use of nasty chemicals.
Oh, and did I mention that Ava is only 15 years old? That's right — this high-schooler recognized the need for non-toxic beauty products and did something about it. I can say with absolute certainty that I was nowhere near that cool when I was 15. (Heck, I'm still not that cool.)
Now a fully functioning, privately held company, Ava Anderson Non-Toxic was kind enough to send me three samples from its skin care line, which I happily agreed to review. The first thing I tried was the toner, which comes in a 3.4 oz. bottle. Unlike other toners I've used, this one is designed to spray directly onto your face. I found it to be very gentle and not at all harsh on my sensitive skin. I also didn't get any of that tingling, stinging feeling that astringents can cause. This toner uses yucca, a natural antiseptic, and witch hazel, which opens pores and washes away impurities. It moisturizes my skin without making it greasy and, after several days of use, my skin looks clearer and doesn't dry out as easily. I highly recommend this toner.
The next product I tried was the moisturizer (which I was especially happy to receive because I had JUST run out of my previous moisturizer). This comes in a 1 oz. bottle. I've used it every morning and night for a couple of weeks now, and my skin stays nice and hydrated all day long and I've had nary a breakout. This moisturizer is made with shea butter and natural fruit oils, which gives it a light scent that, to me, smells like grapefruit. Don't worry, the smell is not strong enough to compete with perfume or other scents you may be wearing. I'm likely to buy this moisturizer again after this bottle runs out (which, by the looks of it, will not be for quite a while. An ounce of facial moisturizer goes a long way.)
Finally, I tried the sugar lip scrub. I'll be honest here: Lip scrubs are a little weird to me. I can never figure out how to get the excess sugar crystals off my lips without also wiping off the moisturizing ingredients. That's not a knock against this particular lip scrub — it does indeed buff away any chapped parts of my lips and leaves behind a nice minty smell, and besides, I'm probably doing it wrong. If you are a fan of lip scrubs and want one made with shea butter, pistacia seed, and sugar, I'd recommend this to you.
Overall, I'm very impressed with Ava Anderson and her skin care products, and I'm likely to order from her website next time I'm stocking up on beauty products. I invite you to do the same.