Posted on
May 14, 2008

by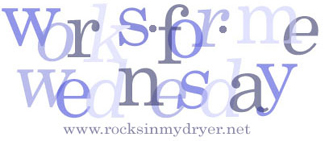 I came across the Works for Me Wednesday carnival through Gray Matters and decided to throw my link into the ring.
I don't know about you, but I get really sick of drinking plain water. But aside from the occasional natural soda, I don't let myself buy packaged beverages. I make a pitched of iced tea sometimes, but that takes foresight, because the tea has to brew and cool. So I've found a way to make lemonade that's almost "instant" without lots of packaging, expense, or calories.
These measurements aren't exact, because I just kind of throw it together.
In a 32 ounce reused glass juice bottle I mix:
1/4 cup of lemon juice — Santa Cruz Organic lemon juice is my favorite.
2-3 tablespoons of Agave Syrup
Fill to the top of the bottle with water. Shake, and enjoy.
If you use bottled lemon juice, it's just as easy as making lemonade from a mix, but there are no icky ingredients.
Go check out what's working for everyone else.