Posted on
May 28, 2008

by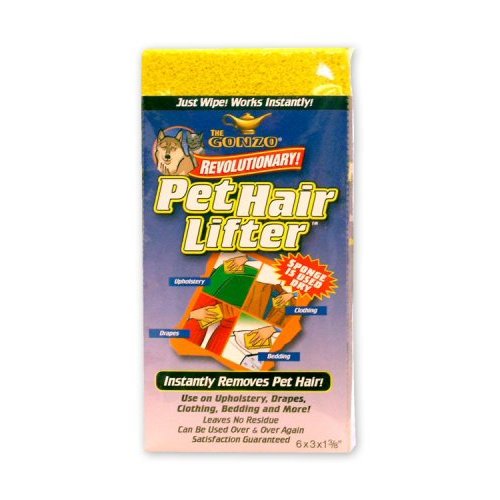 I bought a Gonzo Pet Hair Lifter Sponge about four years ago, and I've gotten a lot of bang for my buck.
Pet hair is my nemesis. As soon as I have the house clean, the hair starts collecting again. It weaves into couch cushions, rugs, car seats, and gets stuck in corners. Sure, I can get rid of it, if I spend hours with the vacuum, trying to suck it all up, but it's not very effective, and leaving the vacuum running that long is not energy efficient.
The Gonzo Pet Hair Lifter Sponge is covered with some kind of rubber. You use it dry to wipe pet hair off of almost any surface. And it works wonders! Even after I've vacuumed, the sponge picks up crazy amounts of hair. It gets in cracks and crevasses, and when it gets dirty, you simple wash it with soap and water and leave it to air dry.
I don't know if the material used to make it is eco-friendly but it does cut down on vacuum time. And in an age where most of the cleaning products out there are one-use disposables, a sponge that's still going strong after four years is something worth talking about.
Check out more Works for Me Wednesday tips at Rocks in My Dryer.