Posted on
April 16, 2008

by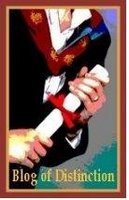 Well, Erikka does at least, and she writes one of my favorite blogs, so I am just pleased as punch to accept the Blog of Distinction Award from her!
And, I'd like to pass the award on to a few of the other blogs on my reading list.
Mickey always leaves great comments around here, and writes interesting, insightful, and amusing posts over at The Prettiest Denny's Waitress. I get a little antsy if he skips a couple of days of posting, because his blog is one of my favorite afternoon reads.
Cute fashion finds, funny videos, tales of what it really takes to be a bridesmaid, and a recipe I can't wait to try — how could you not love The Modern Gal?
Beth from Fake Plastic Fish is inspiring. She's cut down her plastic consumption to levels I previously would have thought impossible. When I commented with a question about plastic-free food storage a little while ago, she took the time to e-mail me with answers. And her newest endeavor is awesome too.
Baltimore Bliss blogs about juicing, yoga, fasting, meditation, and finding the time and space we need to be our best selves. Her commitment to health and wellness inside and out is wonderful, and her honesty is refreshing.
Dianne just made pumpkin marshmallows over at Dianne's Dishes! Pumpkin marshmallows! Not only do her recipes rock, but her food photography is incredible. Her website is guaranteed to make you drool.
And, last but not least, Petite Planet gives great green advice and is working hard to make the world a greener place for her adorable daughter. I never miss a post.
Pass it on!
Thanks, Erikka!