Posted on
August 18, 2011

by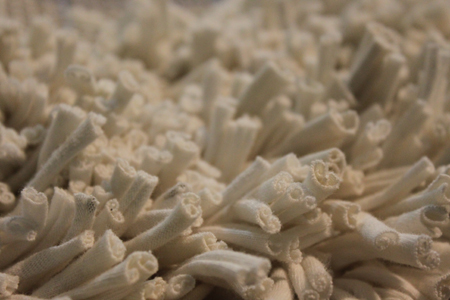 I know I'm not the only one who has held on to, or in other ways accumulated, tons of unwanted t-shirts that now dwell in massive numbers at the back of a closet.
Whether from 5k races, blood donations, intramural sports, or that old high school club, I'm constantly amazed at how extra t-shirts creep into our lives.  I always keep them with the thought that they would make good utility shirts; you know, a junk shirt that could be worn while gardening, or painting, or changing the oil in your car- unfortunately, I have WAY more t-shirts slotted for these activities than activities that would warrant wearing them.
And my collection keeps growing.
It helps to make the conscious decision to refuse t-shirts at every opportunity but that only solves the supply problem- so what do you do with the t-shirts you already have?
Thanks to the internet, there are plenty of suggestions for repurposing t-shirts nowadays but since I already have enough t-shirt rags, I'm often disappointed in repurposing projects that result in a novelty item that does its new job more poorly than what it was designed for.  I'm not saying all the suggestions have this problem, but I'm often surprised an even cooler solution isn't brought up more often: a latch hook t-shirt rug.
Where as t-shirt quilts and rag rugs take some equipment and some level of crafty skills, a latch hook t-shirt rug takes very little supplies and very little talent for crafts.
What you'll need:
seamless t-shirts
scissors
latch hook grid
latch hook
First, I like to make the t-shirt into t-shirt yarn.  There are plenty of tutorials out there (try this one or this one) but here is a quick picture guide: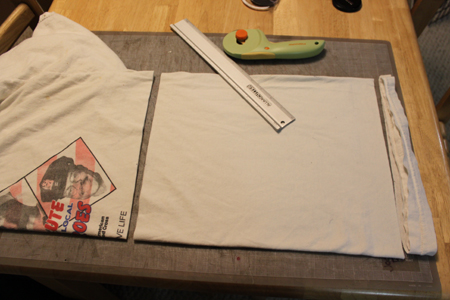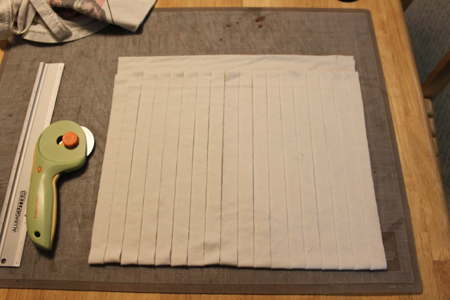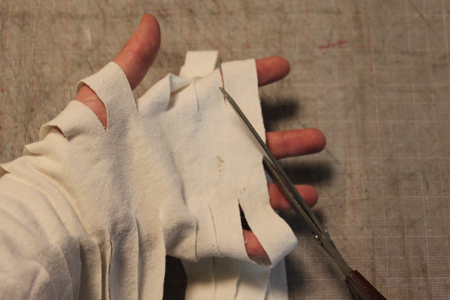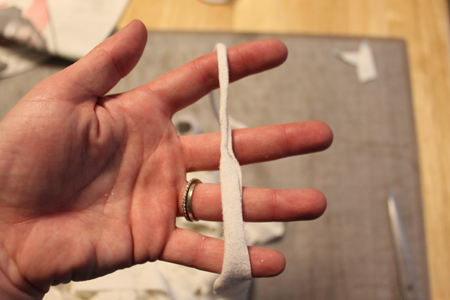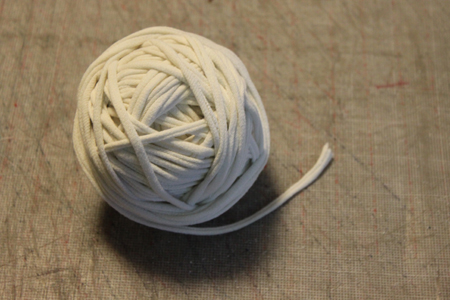 Personally, I like to make the t-shirt yarn into a variety of thicknesses ranging from 1/4″ to 5/8″ inch.  Any thicker and I think it is difficult to work into the latch hook grid.
Any logos or printed areas have to be avoided since the print does not allow the t-shirt to curl as needed for t-shirt yarn.
You also can used seamed shirts, as well as shirt sleeves and other t-shirt scraps, by simply cutting them into strips rather than the continuous t-shirt yarn from the t-shirt yarn tutorials.
Then you simply cut the t-shirt yarn into 4-5 inch lengths.  Although this project doesn't take a high level of craft skill, it does take a lot of t-shirts, a lot of cutting, and a fair amount of time (although the size of the desired rug will affect this greatly).
Preferably, all the t-shirts for a single project should be cut up at the same time and mixed together.  This is so any slight variation in color, thickness, or texture is dispersed throughout the project rather than appearing in spots.  This also allows the option of dyeing white t-shirts a color of your choice in a single dye batch.
Once your t-shirt strips are ready, you simply latch them into the latch hook grid like any standard latch hook project.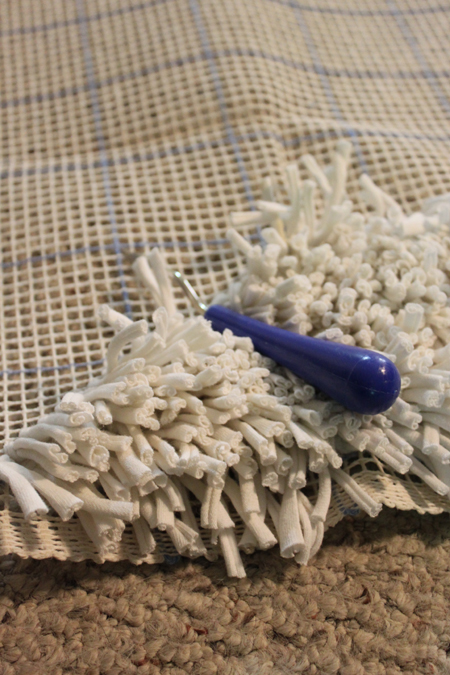 The thickness of the t-shirt often allows for every other latch hook grid to be used- as you can see from this tutorial.
I'm also experimenting with using other worn out fabrics from my closet for this type of project, like old jeans for a denim latch hook rug: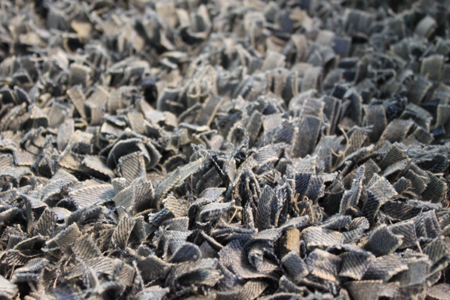 Now you might have a reason to empty those closets!