Posted on
April 9, 2010

by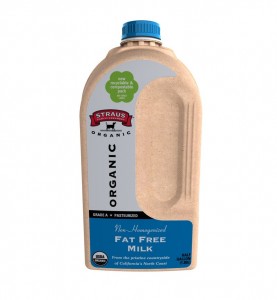 Plastic beverage bottles generally make me cringe in how they've become so prevalent in our society and take a lot of resources and energy to both create and recycle (if they even make it to the recycling bin!) They're all over my own workplace, and while my workplace makes a half-hearted effort to recycle, I know many of those plastic soft drink and water bottles end up in the trash.
The problem is there aren't a whole lot of alternatives out there that are much better. The best options for beverages is to drink tap water or filtered tap water with your reusable water bottles or glasses and (if this is even an option where you live) enroll in a milk delivery service that reuses glass bottles. Here's a list of dairies that use glass bottles.
But where there's a lack of options there's usually a few smart people trying to find ways to create more choices.
One of those companies is Ecologic, which has created a bottle that's a bit more Earth-friendly. Ecologic's bottle is made of a cardboard outer shell that is 100% recyclable and can be composted. Inside the shell you'll find a plastic pouch that holds the liquid. The pouch uses up to 70% less plastic than the typical beverage jug and is made of #4 recyclable plastic. Straus Family Creamery sells its milk at Whole Foods in California using Ecological's bottle (see photo above), and it's a very pretty package if you ask me.
Another cool idea — though just a concept right now — is the idea of redesigning the 20oz soft drink bottles that have become so pervasive. College for Creative Studies freshman Andrew Kim has what seems to be a revolutionary idea. Make the bottles square, stackable and collapsable. By making them square and stackable, the bottles would be take up less space in shipping containers, meaning you could transport more for the same footprint you're transporting fewer bottles now. By making them collapsable, you can also save room in recycling containers or (heaven forbid they end up in the trash) in the trash heap. Check out Andrew's blog to see renderings and more details of his concept.
Obviously we can't just will these kind of improvements to find their ways into our stores and drink machines. Like many other things in the economy of green products, it will take us demanding them of companies and purchasing greener bottle products when we can find them.