Posted on
June 10, 2009

by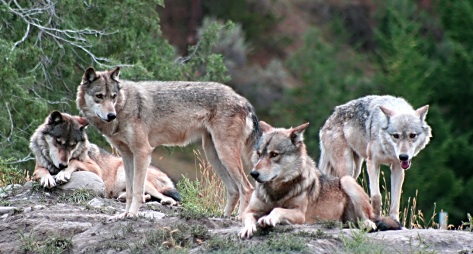 Wolves have been in the news a good bit over the past few months, from the success stories of their reintroduction into the Upper MIdwest to Sarah Palin's support of shooting them from aircraft. Now there's a new lawsuit pending in my new stomping ground, the Northern Rockies, which seeks to prevent wolves from being legally hunted in the very areas to which they were reintroduced just a few years ago.
A decision made by the Bush administration and upheld by Obama in April has kept wolves off the endangered species list in Montana and Idaho.  The lawsuit, filed by environmentalists, seeks to prevent the legal public hunting of wolves in these states. They're still endangered in Wyoming, but the state's attorney general has requested that wolves be open to public hunting. If his request is granted by a federal judge, I wouldn't be surprised to see a similar lawsuit filed in Wyoming, especially if wolves are taken off the endangered species list here.
Wolves were slowly reintroduced to Yellowstone National Park, which straddles Montana and Wyoming, beginning in 1995. Though the reintroduction started with just 14 wolves captured from Canada and transported to the area, it's been remarkably successful. There are an estimated 1,645 wolves in the area today.
Support for hunting wolves largely comes from ranchers, who complain that wolves kill their livestock and big game herds. Wolves that prey on livestock are caught and removed from the area by federal wildlife agents, but ranchers say that's not enough. Wyoming actually has a law saying wolves can be shot on sight, but that law is overruled by wolves' inclusion on the endangered species list, which is a federal regulation. 
What do you think? Do ranchers make a good point in requesting their livestock be protected from predators, and is hunting wolves the best answer to that problem? If so, is there a responsible way to do that without sending the wolf population to the brink of extinction again? Or should we leave the wolves alone altogether? Do tell.