Posted on
February 7, 2011

by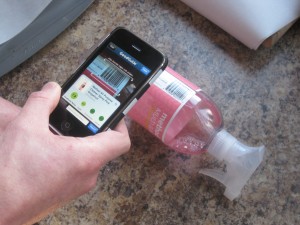 Every time I go to the grocery store with household cleaning items on my shopping list, I go with the intention of only purchasing environmentally friendly items. Inevitably, I find myself in the cleaning supplies aisle staring at all the products that claim to be environmentally friendly or non-toxic or what not with no clue which one to purchase. Plus there's that nagging worry about greenwashing — companies claiming their products are green without having any sound data to back that up.
The folks behind GoodGuide.com are here to help us all get the skinny on how green ALL the products we use — household items, personal care products, food and toys — are based on how healthy the product is, how environmentally responsible it is and how social responsible the company is. GoodGuide was started by a UC Berkeley professor and is run by a team of scientists and environmentalists who study tons of data to determine ratings for every product listed at GoodGuide. Those ratings give you a sense of how overall bad or good the product is. At GoodGuide.com you can search for a product by name to check its rating or browse by product category to find the best and worst products.
And even better, GoodGuide has an iPhone app with bar code-scanning capabilities. The (FREE!) app uses your iPhone's camera to scan and try to match the bar code on any product with the bar code numbers stored in its database. If it can match, it will provide you with the ratings on that product, making it easier to decide on the spot whether or not that product is a good purchase.
As soon as I downloaded GoodGuide onto my iPhone, I ran around the house trying to scan some of the products we had sitting out on counters and shelves. The scanner works OK, but that might be more user error than GoodGuide as I've had mixed results with all apps that use bar code scanning technology. What I did find was that the Method All Purpose Cleaner Spray (in pink grapefruit) that I use to clean the kitchen counters is pretty green with a 7.8 rating and the Vaseline Intensive Care lotion that sitting in the bathroom is a little more questionable at a 5.6. I'll have to use my GoodGuide app next time I need to replace that lotion bottle!