Posted on
November 5, 2009

by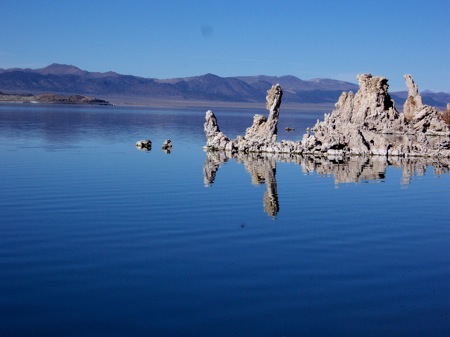 Heck of a country we live in, huh? No, seriously — have you seen it lately? Heck of a place. If you haven't seen it recently (and what are you waiting for?), don't take my word for it. Check it out. All of it. And if you are the word-taking sort of person, you're in luck, because I just saw a whole heaping wad of the joint, sea to shining sea. Actually sea to shining Atlanta, but then I'm not known for seeing things through.
After finishing my six-month season as a park ranger in Grand Teton, the lady and I took advantage of my new employment status (meaning I had none) and the fact that we had nowhere else in the world to be (some call that homelessness) and toured the left side of the continent. Unloading our possessions at a friend's house in Canyonlands National Park in Utah, we spent two weeks carving a loop through the American west, connecting as many national parks together as we could while experiencing so many climates and terrains that Courtney's Honda Civic felt more like a spaceship than merely a reliable four-cylinder import. From 282 feet below sea level in the 100-degree autumn heat of Death Valley to nearly 10,000 feet above it in the snows at Tioga Pass in Yosemite, we saw it all.
It also felt like a grand tour of American conservation battlegrounds, from the failures (Glen Canyon with its dam) to the triumphs (Grand Canyon, no dam), to those in progress (still recovering Mono Lake, above.) Of course, all three of those have to do with water, be it the impoundment of the Colorado River at Glen Canyon, the narrow aversion of the same in the Grand Canyon or the diversion of water from Mono Lake for the thirsty city of Los Angeles, 350 miles distant. We also stood in the misty shadows of giant old-growth Coast Redwoods, a conservation story that's difficult to score. We saved some, and that's surely a good thing, but is the job finished? Are those disconnected stands of 2,000-year-old trees a museum, or are we going to set aside more forests, so that in another 2,000 years 350-foot redwoods aren't so far between?
In between all the jaw-dropping landscapes it was easy enough to see the causes of those famed fights of the conservation movement: the growing, glittering metropolis of Las Vegas with its golf courses, swimming pools, and million-plus souls occupying a space on the planet that contains virtually no natural surface water at all; the even thirstier San Joaquin Valley of California, a place so productive it made me hungry just thinking about all the food that's grown there; and everywhere things made of wood, with no tree in California being more commercially valuable than the Coast Redwood.
It's all a work in progress. Some battles were lost, many won, but most of it is still very much up to us. It won't all be a museum, that much we know. People still have to live in it, after all. But we've learned lessons with both the successes and the failures, and it's up to us to apply what we've learned to make sure we still have a country that's worth seeing down the road. It's a big place, and we've messed up a fair amount of it, but there's a whole lot left to take care of. Just don't take my word for it — stick your head out the door and take a look around. There's a lot to like.