Posted on
May 28, 2009

by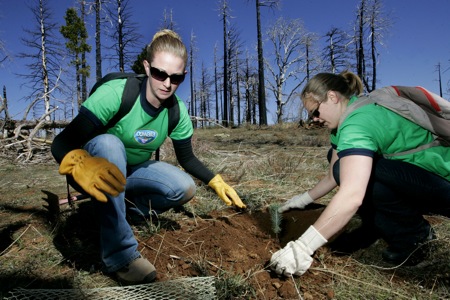 Last year, the Odwalla Plant a Tree program provided more than 60,000 trees to state parks across the country.  Since it was so successful, they're doing it again.
Go to www.parkvisitor.com/odwalla and choose a state (California, New York, Florida, Pennsylvania, Colorado, Utah, Ohio, Texas, Maryland, Michigan and Virginia are on the list this year). The trees will be used to support important reforestation and planting initiatives across the country.  You won't have to register or enter any personal information.  Odwalla is donating $100,000 worth of trees this time around.
The program runs from May 27, 2009 through December 31, 2009. The species of trees donated will vary by region and will be planted in fall 2009 and early 2010.
"The Odwalla Plant a Tree program is very important to our state parks across the country," said Ruth Coleman, director of California State Parks. "So many people want to do things to help our environment and Odwalla is making it really easy to have a positive impact."
It takes less than a minute.  Do it!