Posted on
January 28, 2010

by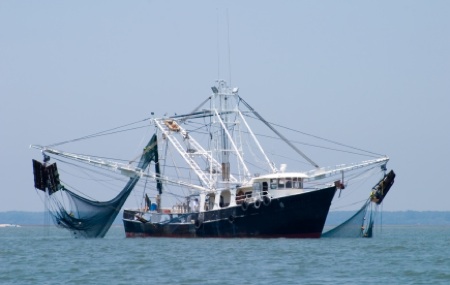 Sometimes caring about the world makes me feel like a real jerk. Sure, my self-righteous fervor usually overcomes that with ease, but occasionally my convictions make me feel a bit uncomfortable. The best example of this I can think of is when I use the little folding card I keep in my wallet that tells me what seafood is okay to chow down on and what should be avoided, either due to overfishing of a particular species, personal health risks associated with high levels of mercury, or both.
The problem is this: I never eat out alone, so whipping out my trusty cheat sheet has the potential to ruin someone else's meal, i.e. "Well dang! I was really looking forward to some Chilean sea bass!" Of course, this is an excellent opportunity to educate a fellow diner on the precariousness of the sea bass(real name: Patagonian toothfish) population, but I can't help but feel like I'm spoiling someone else's fun, ignorant fun though it may be.
The thing with seafood is, unless you are a fisheries biologist who keeps up with all the literature, you really do need a cheat sheet to keep up with what you should and shouldn't eat from the ocean. The fact is, many ocean-going species and entire ecosystems are either on the verge of collapse due to overfishing or have already hurtled past the brink and yet, in many cases, the harvest continues unabated. And unless you are one of those fisheries biologists or the sort of person who carries reminders of what's okay to eat in your wallet, you'd never know there was a problem because it's about as out of sight as it gets, offshore and underwater.
That's why, on a trip to Charleston, South Carolina this past weekend, I was very happy to see the logo of the Sustainable Seafood Initiative in the front windows of so many restaurants. The SSI is a local program dedicated to "the conservation of fishery resources and the use of locally and domestically caught seafood in restaurants." They do this by collaborating with chefs throughout South Carolina to ensure that their menus feature only sustainably harvested fish. The chefs also specifically pledge to remove orange roughy, imported shark and Chilean sea bass, three dangerously imperiled species, from their menus.
And you can see why I think this is a good thing: The card stayed in my wallet and no one was tempted with that Patagonian toothfish. The restaurants we patronized, with the help of the SSI, figured all of that out for me so I could enjoy my shrimp and grits without imposing my silly environmental tendencies on anyone. In other words, these businesses made the right choices about their product before I even came through the door, freeing me to just eat myself stupid. Imagine that.
Of course, no matter what the folks selling us things might say and whatever stickers they put on the front door, we still need to pay attention to what we're consuming, so whether you live in a place like Charleston or not, a little pocket guide can go a long way toward helping you choose the right seafood to put on your plate. Get yours from Seafood Watch. Two other good sources of information on sustainable seafood are the Marine Stewardship Council and Oceana.