Posted on
January 2, 2012

by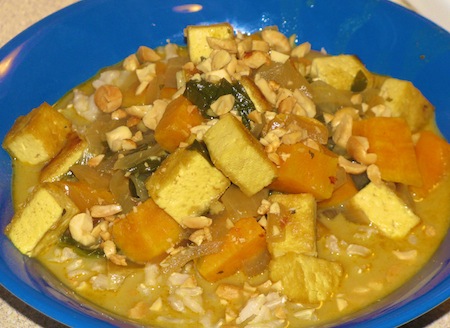 I love those creamy, spicy, coconut milk-laden dishes you get in Thai restaurants and I wanted to make my own. I found this recipe on a site called Nutritioulicious, and I've tweaked it a little to my tastes and the contents of my kitchen. Serves four.
2 tablespoons canola oil, divided
2 cups thinly sliced onions
2 garlic cloves, minced
3 tablespoons soy sauce
1-2 tablespoons curry powder
1 teaspoon ground ginger
2 teaspoons chili paste
2 teaspoons brown sugar
2 ½ cups water
2 or 3 cups peeled and cubed sweet potatoes
1/2 bunch collard greens or spinach or something similar, chopped
1/2 teaspoon salt
1 (14-ounce) can coconut milk
1 package firm tofu, drained and cut into 1/2-inch cubes
1 tablespoon fresh lime juice
5 cups cooked rice, brown or otherwise
1/4 cup finely chopped unsalted, dry-roasted peanuts
1/4 cup chopped fresh cilantro
Heat 1 tablespoon oil in a large pot over medium-high heat. Add onions and sauté for 3 minutes. Add garlic and sauté 1 minute more.
Stir in soy sauce, curry, ginger, chili paste, and sugar. Add water, sweet potatoes, greens, salt, and coconut milk and bring to a boil. Reduce heat and simmer 20 to 30 minutes.
Heat the remaining tablespoon of oil in a large nonstick skillet over medium-high heat. Add tofu and sauté 12 minutes or until golden brown, turning occasionally.
Add tofu and lime juice to sweet potato mixture and continue to simmer until curry is to preferred consistency.
Serve curry over rice and sprinkle with peanuts and cilantro.