Posted on
May 31, 2010

by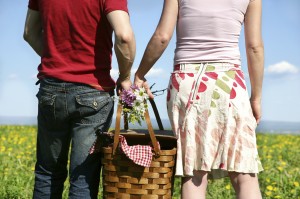 It's Memorial Day, the unofficial start of summer, which means lots of people will be breaking out the picnic baskets and firing up the grills for the next few months. Eating outdoors seems like a more natural way to enjoy our food, but it also takes a few extra steps to stay eco-friendly. Here are some reminders of how to enjoy your summer barbecues and picnics without leaving a larger footprint.
1. Use reusable items whenever possible, like cloth napkins or BPA-free bottles. Are your dishes too heavy to carry to your picnic or too unsafe to have around the pool? Try biodegradable items, like VerTerra's palm-leaf plates or the items at Branch Home. And recycle, recycle, recycle.
2. Use local foods for your feasts that are in-season. Check out your local farmer's market, food stands, CSA or grocery co-op to see what you can find. Local Harvest can help you locate any of these places. Also try some organic condiments and organic wine.
3. If you're looking for a scenic spot for a picnic rather than a backyard cookout, try to cut down on transportation costs by exploring your local parks and wildlife areas. And as I learned in Girl Scouts: take only photographs and leave only footprints.
4. If you plan to fire up the grill, try using a chimney starter instead of lighter fluids, which can release harmful chemicals into the air. Pack your charcoal into the container, add some old newspaper underneath and light the paper. The heat from the burning paper will warm your coals, which you can then add to your grill.
5. While you're not indoors, don't forget to turn off the A/C. You don't need it.
6. Enjoy the beauty of your outdoor surroundings!
Got any other tips to share?