Posted on
October 6, 2008

by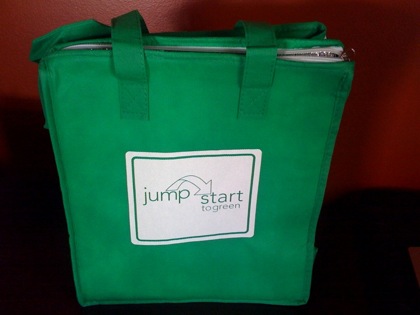 Jump Start to Green is a simple starter kit to help new greenies make easy changes to lower their carbon footprint.
The people at Jump Start to Green were kind enough to send along some samples from their starter kit. 
I don't have a full kit, but I do have some helpful elements that will give you a jumpstart on going green.
1 Zip-top insulated grocery bag for keeping cold items cold on the trip home from the store
A dry erase fridge card to track your green progress
Guide to Green, a six page chart with tips for going green (the source of this week's tips)
A Jump Start to Green window sticker for your car
Reminder stickers to place around the house to nudge members of your family toward greener habits
A junk mail reducer kit
This week, sign in with a valid e-mail address and leave a comment on each of the Jump Start to Green tips on the right hand side of this website all week for an entry into the giveaway.  Only one comment/entry per post per person will be counted. The giveaway will close on Sunday, October 12th, at noon (Eastern), and I'll draw a name out of a hat to determine the winner.  The winner will be announced on Monday, October 13th. Comments that appear to be spam will not be counted.
Good luck!