Posted on
April 22, 2010

by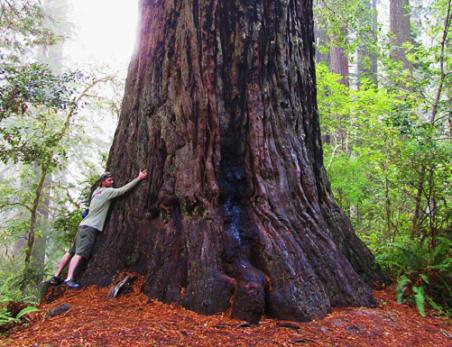 I have to admit: I'm not a huge fan of Earth Day. It's not that I'm against it, exactly, because I'm really all for any excuse to get people talking about ways to be better citizens of the only planet we've ever so much as sniffed. I can't pinpoint precisely what it is that bothers me about Earth Day, but I do know this: I'm loathe to acknowledge it. As in, if I were reading this paragraph out loud, I would pause before every utterance of Earth Day, make a face like the godawful fermented mutton smell of our neighbor's cooking has just wafted through an open window, and sound out the words Earth and Day like I'm learning a phrase for the first time in Esperanto, or possibly Klingon. I get tripped up the same way with words like hiking (fancy, unnecessary word for walking), jogging (fancy, unnecessary word for running) and Lady Gaga (I just don't think a grown man should say things like that. Also, Goo Goo Dolls.)
Perhaps more relevant, and more deeply tied up in my own twisted psychology, I also don't like the term environmentalist. It's not the negative associations that some people may have with the word- in fact I embrace those (literally; see the photo of me hugging a tree.) It's the usage of the word that implies an environmentalist is somehow different that sticks in my craw. It's a label, and I've always had a problem with labels (like any good contrarian), and I understand that they are necessary as a basis for communication (maybe those trees I've been hugging resent being labeled trees?), but I cringe at what I perceive, right or wrong, as language that implies that being conscientious is some sort of alternative. Because at its heart, I believe "environmentalism" is a belief that there is a right way to conduct ourselves as individuals and as a society as we relate to the world around us and that this is the only way if we are to survive as a species with the health of our planet intact. And that there is no alternative.
I prefer to paint those who hazard their way through life throwing elbows in perfect oblivion to the effect their actions have on the world around them as the "others." Let them carry a label. I know they are probably the majority, but I won't let their ignorance make me feel like the odd one. There may be more of them, but we're in the right. Sure we're environmentalists, if you must have your labels, but let's all agree that we're really just people behaving as people should.
As for Earth Day – and I'm so proud I made it this far before typing the following worn-out phrase – Let every day be Earth Day. Seriously. That's my whole tired point here. It's great that all the big corporations are running ads this week touting their latest tiny, incremental step in the right direction as the greatest thing since sliced fermented mutton, but we can't be letting them off the hook the rest of the year. And we haven't been. That's the good news. When I was a kid, Earth Day felt like an island in the calendar. It was like Columbus Day; it came around once a year, so that's all we thought about it. But, in inverse proportion to the decreasing attention we have been giving to the genocidal, erstwhile "discoverer" of the Americas, our awareness of environmental issues has spread to the rest of the year, finally breaking into the mainstream. Which is where it was all along, of course. It just took all those oblivious other people a lot of time and much prodding to start paying attention to us, the normal folks, the *cough*environmentalists.
So I may not want to say it out loud (it just feels so uncool), but I'm not averse to typing it: Happy Earth Day. That goes for tomorrow, too.