Posted on
May 27, 2009

by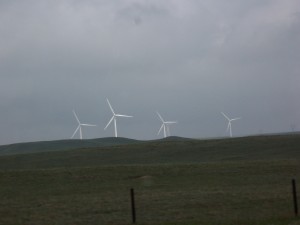 Last weekend, I moved from Tennessee to Wyoming. The reasons for my move are long and sordid, but I did want to share with you something interesting I saw on the looooooong drive: Wind turbines. (I originally wanted to call them windmills, but technically windmills are supposed to mill something. Wind turbines generate energy, windmills are like the place where Heidi lives. This post is about turbines. And please forgive the less-than-great photo quality — I took it out the car window as I was driving past them and also trying not to wreck my car.)
Wind turbines aren't something you see a lot of in the East, but in notoriously windy southern Wyoming, they are everywhere. When I was driving through the rolling hills, before I started seeing snow-capped peaks, there were some places where dozens of wind turbines were gathered on top of berms, and they were churning away. I began to wonder just how exactly wind turbines work, and thanks to a little research, I got my answer.
Wind, when properly harnessed, is a great way to generate energy. Each turbine is very large, usually from 200 to 300 feet tall, which is important because height is an important component in aerodynamic modeling. The turbines have three blades each, and obviously they are propelled by the wind currents. Depending on how windy conditions are, the blades rotate at a rate of 10 to 22 rotations per minute. Inside the base of the wind turbine is the generator, the control electronics, and a gearbox component, which speeds up the generator a bit.
The blades can be tilted at different pitches so the wind turbines take maximum advantage of the conditions. The blades always move perpendicular to the wind, allowing them to generate energy through the whole rotation.
Not everyone loves wind turbines, though. Aside from being very large and difficult to transport, requiring skilled workers to install them, there are some who say they disrupt the landscape and ruin the view. They're also noisy. Also, since wind doesn't move at a constant rate, neither do the turbines, and this makes them an intermittent power source. The grid may have to compensate for the changes in energy generation.
Personally, I think they're kind of neat, and it sure beats blowing the tops off of mountains to get coal for power. What do you think of wind turbines — great alternative power source or eyesore?