Posted on
February 14, 2012

by

Please welcome today's guest poster, Chris Molnar.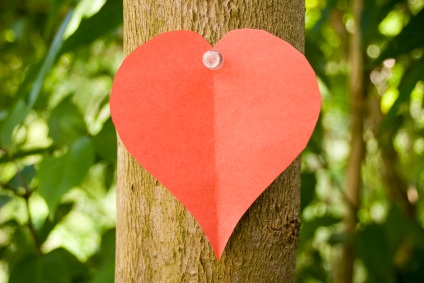 For hundreds of years, Valentine's Day has been a celebration of romantic love. Today it is celebrated with gifts like flowers, chocolates, and greeting cards. But once the holiday is over, what do you do with the endless packaging of all those gifts and cards?
This Valentine's Day, let's turn the red into green with Valentine's projects, gifts and ideas that are all eco-friendly.
Finding ways to recycle and reuse those gifts and packages is a great way to be a friend to the environment while still enjoying the holiday. So if you are looking for greener options, check out these ideas and tips.  
Eco-friendly Valentine's Day Gifts
Eco-friendly gifts may be hard to find in local department stores, but there are plenty of choices online, in health food stores and (of course) in stores specializing in organic products. From organic dark chocolate and bubble bath to fair-trade roses, there are a lot of options and choices for your partner.
Here are a few other neat gift ideas:
Lingerie – If looking for "green" lingerie (which comes in a variety of colors!), look for brands such as Stella McCartney, Urban Fox and Blue Canoe.
Eco-friendly jewelry – Gold and other metals often involve devastating open-pit mining and the use of cyanide to extract gold from the rocks. But there are alternatives. Buy recycled jewelry (try Greenoro.com and Eco-artware.com), or ethical and sustainable sourced diamonds, gems and pearls (Brilliantearth.com).
For chocolates, organic wine and gift boxes, Exo-Express (Ecoexpress.com) is a great site for gift ideas. Check out their Valentine's Day section.
Adopt an Acre - In lieu of a physical gift, adopt an acre of forest instead! The Nature Conservatory has options to adopt an acre of rainforest, coral reef or wilderness all over the world (adopt.nature.org).
Looking for handmade? Etsy and Artfire are two of the most popular online marketplaces for indie crafters and home-based business people. Look for artisans who use organic materials to make their products. In some cases cruelty-free is also specified; if you aren't sure, ask.
Recycled Gifts – You can take your gift-giving a step further by purchasing gifts created from recycled materials. These gifts are certainly creative and unique in nature. A site called Uncommon Goods (Uncommongoods.com) lists hand-crafted and recycled products for sale, and you can choose "recycled" as a search option when looking for gift ideas. Look for other marketers like this one for green options.
Upcycled Valentine's Day Craft Ideas
Making your Valentine's Day cards from recycled material is a great way to say "I love you" in an eco-friendly way. By reusing old materials around your home, you're giving materials that would otherwise go in the trash new life! You can find most materials listed below already in your home.
Paper Grocery Bags – You can use old brown grocery bags to make some nifty crafts. For Valentine's Day you can create some impressive Valentine's Day cards. Click here to get the template and step-by-step instructions on how to make these cards.
Local Flora - Take a walk around your neighborhood . You'll be surprised at what natural card-decorating materials you find! Pine cones, acorns, pretty winter needles from pine trees, berries, delicate branches and early-bloom wildflowers are all possibilities. Drying may be necessary; you can dry berries and other natural items in an oven on the lowest setting or in a dehydrator. When completely dried and cool, use to decorate your Valentine's Day card.
Empty Paper Towel Rolls - Fill with Valentine's Day goodies and wrap with paper from holidays past to make a cool popper. http://www.ehow.com/how_7697496_make-party-poppers-pop.html
Jewelry - Have costume jewelry in your jewelry box? Does it all have sentimental meaning, but just never seems to go with anything? Make your love a memory bracelet! Attach earring parts, necklace pendants and other trinkets to a simple linked chain. (Use needle nose pliers to open and close the links.)
Old Scarves and Fabric - Cut cute hearts, flowers and Cupids out of pieces of material or clothing you no longer wear; glue to your Valentine's Day card.
Mismatched Beads and Buttons - Buttons that no longer have a home can find a new one when you attach them to a pretty "I Love You!" posterboard. Draw flower petals around them in bunches and cut out cardboard to make a flower pot underneath. Add beads and any sparkly odds-and-ends to your project. Write "My love keeps blooming for you!" on the board.
Old Photographs - Make a memories collage out of any old photographs you can find. If it's in honor of your sweetie, hunt around for childhood photos and pics of his relatives and ancestors. Ask the family if you need to. Glue to a large photo frame backing or take an unwanted poster out of its frame for this purpose. This is a very sentimental gift that lets your beloved know you care about every part of her life.
Cut Flowers? No Way! Try These Instead
Cut flowers — particularly roses — are one Valentine's Day tradition we'd love to see people recycle. Flowers are beautiful, but cutting them down for a week or so of use just doesn't seem earth-friendly.
Instead , try one of these ideas for a Valentine's Day gift that will last … and that your loved one will truly appreciate.
A potted plant. Buy one she can keep indoors; otherwise, make sure you're purchasing something that can be replanted outdoors in her climate. If she owns pets, make sure the plant is not poisonous to animals.
Seeds, organic peat/earth, organic fertilizer and garden tools. This Valentine's Day, start a garden together! Getting in on the growing process will make this gift extra-special. Buy plants that are frost-hardy, or let your loved one know you and he have a date this March or April to get growing! For extra earth oomph, make it a veggie garden and be your own local mini-farm.
An indoor herb garden. You don't need to buy a plastic dome or fancy fluorescent lighting for this (though you can go all the way if you're an avid grower). Buy natural peat pots and seeds, arrange in a cardboard tray that you've decorated with cardboard hearts and flowers and give to your Valentine.
A sapling. Either buy a tree sapling to plant in the yard if you have room, or donate one to your local city in your Valentine's name. Trees are a huge boon to the environment, and most cities will have some sort of tree preservation or growing program. Check on your town website or give them a call to find out the details.
I hope these green Valentine's Day tips have helped you in your quest for a unique and eco-friendly Valentine. Have a very green Valentine's Day!
A resident of Canada's Prairie, Chris loves to hike, ski and enjoy the natural beauty all around him. As a work-at-home dad, Chris edits a birthday party theme site to help families organize memorable DIY parties. He also volunteers regularly in his elder daughter's kindergarten class and at his youngest child's preschool. For Valentine's Day, they saved all their Christmas cards and used the backings to cut into heart shapes and designs for their cards.