Posted on
November 11, 2009

by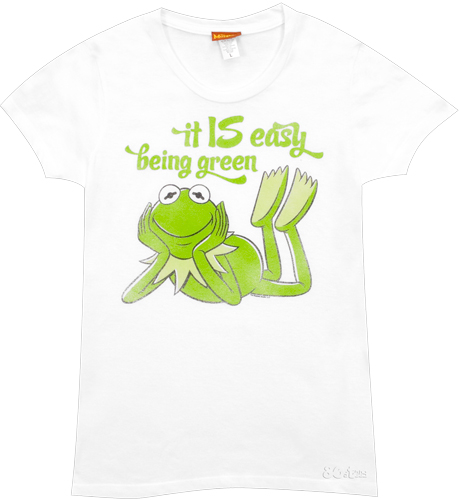 Image credit: 80sTees.com
Kermit the Frog may have famously lamented that it's not easy being green, but on its 40th birthday, Sesame Street is aiming to teach kids that, as a matter of fact, it is.
Starting this week, our old pals Big Bird, Oscar the Grouch, Bert and Ernie, and Cookie Monster are going to start instilling a sense of environmental responsibility in their young viewers. While they'll stay away from referring directly to hot-button issues like global warming and deforestation, mixed in with lessons about the alphabet will be messages of caring for our planet. The reasoning is simple: Teach kids to love the earth so they'll grow up believing it's important to take care of it.
Sesame Street has focused on different causes before, and each one is emphasized in two-year stretches. The most recent curriculum focused on literacy, and before that it was healthy eating. (Even Cookie Monster got on board with that one by chowing down on fruits and veggies and proclaiming cookies a "sometimes food.") The environmental lessons will focus a lot on animals — hibernation, migration, habitats, and the like — to put environmentalism in terms kids can relate to.
Happy 40th birthday, Sesame Street! We applaud your efforts to teach kids to love the earth.
This post has been brought to you by the color green. (Sorry, couldn't resist.)