Posted on
October 1, 2008

by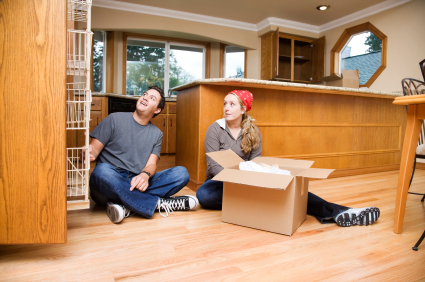 Heather left a comment on my contact page with a wonderful post idea.
Allie,
I just discovered your blog and I love it. You are adorable and I like to think you survive NJ like I do, though that's just an educated guess.
I have a question I am hoping you can answer. My boyfriend and I are going to be moving in together and so will be starting our household from scratch. We have the basic ideas about what to buy, but I am wondering about a few alternatives to some things I am addicted to such as my George foreman. I love it and it's so convenient to cook up a quick veggie burger or panini, but of course it has nonstick coating…in fact, it's advertised as having a triple nonstick coating. Great. As far as I can tell, all the mass market countertop grills have a nonstick coating. Do you know of any that aren't?
It would be great if you or Beth from Fake Plastic Fish could come up with a list for newlyweds or newly engaged or new homeowners to offer some guidance on what and what not to buy for a new household. It's hard to do all the research yourself when you are stressed about mortgages, impeding nuptials, etc.
Anyway, thanks for the well-written blogs. You give me something to aspire to.
Heather
With that much flattery, how can I not write a post about her questions?  I'm blushing here!
Heather has an excellent point:  I am adorable.
No, seriously, setting up a new home and/or getting married are events that tend to come along with a barrage of new stuff.  So why don't we take a look at greener options for household products, and put some thought into things that aren't necessary for a new home.
Firstly, let's address the Teflon counter top grill issue.
My immediate thought was to switch to grilling on the stove with a cast iron pan, some are even made with ridges that would give you the grill marks you've become accustomed to, and probably drain off some of the fat.  A cast iron grill press would help to make paninis, etc.
You could get a crock pot to give yourself the opportunity to make some meals that don't require much attention.  Dianne has a whole slow cooker section on her site now, by the way.
I did a quick search for Teflon-free counter top grills, and found this site.  In comments, readers suggested:
A cast iron grill pan (great minds think alike, you know)
A Delonghi grill with cast iron plates instead of Teflon coated ones.  It doesn't appear to be a press model like the grill you already have.
Now, on to the wish list.  Today, we'll tackle the kitchen, and tomorrow we'll work on the bathroom and bedroom.
Here are a few other things I'd consider adding to my wishlist if I were just starting out:
Consider looking for things like utensils, baking tins, and other kitchen goods at Goodwill, yard sales, and on Freecycle or craigslist.  Accept hand-me-downs from friends and relatives.
Don't ask for what you don't need, and if possible, give yourself a few weeks or so in your new setup with the bare minimum to see if there are things you can do without.  Did you have one of those "husband" pillows in college?  When I went to school, it was on every "must-have" list for freshman that I saw, but I never once used mine.  And think about who you are and how that fits into your new space.  If you hate baking, you don't need muffin tins.  If you value function over form, maybe a yogurt container will work to collect scraps for compost in the kitchen just as well as a fancy pail.
And if you do end up with some things you don't need, don't be afraid to re-gift what you won't use.
What kitchen essentials do you recommend?
Heather has just started a blog!  Please go check it out and leave her some comment love!