Posted on
October 1, 2008

by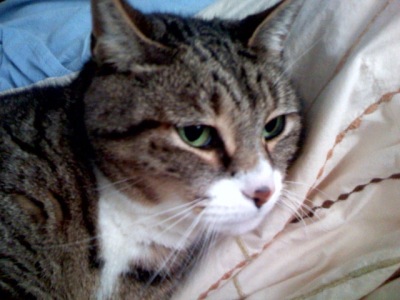 UPDATE: ABC has just linked to my content.  Wow, this has been an interesting morning.  Thanks for the support!

Hmmmm . . . .
My friend Michele e-mailed this morning that they made kitty litter out of newspaper and baking soda this morning on Good Morning America.
So, I looked it up.  Their process was EXACTLY my process, even using the same descriptions.  I mean, I'm ALL for EVERYONE making their own kitty litter, but they could have at least given me credit for it.  Is it that hard to put a link up?
Here's a clip from my kitty litter post (which I wrote on February 19,2008):
So after a week or so of brainstorming, I came up with this recipe for homemade kitty litter.

Shred newspaper in a paper shredder. I collect the shredded paper in an unused litter box.
Soak the paper in warm water mixed with a few squirts gentle, biodegradable dish soap (like Ecover). The shredded paper takes on a cooked oatmeal consistency. The paper won't come completely clean, but the water will turn grey.
Drain the water (an old colander works wonders) and repeat the soaking process minus the soap.
Sprinkle baking soda liberally on the wet paper. Knead it in to the mixture (you might want to wear gloves to avoid getting ink on your hands).
Squeeze the remaining moisture out until it's as dry as you can get it.
Crumble over a screen and leave to dry (it takes a few days).

Once it's dry, I put about an inch and a half to two inches of the paper crumbles in the litter box, scoop solids daily and change it once a week. It takes about a half an hour to 45 minutes to make a 2-3 week supply of litter, and it's kind of fun, in an elementary school art project way.
Here's ABC's instructions:
Homemade Kitty Litter

Savings: $120

I know it sounds a little wild, but, yes, you can make your own kitty litter. And it only takes about a half-hour to do.

I'm not suggesting that all Americans who own a cat should make their own kitty litter. But it shows that anything you want to make you can find the instructions online.

To make the kitty litter, you shred newspaper and then wash it in soapy water. You stir it up until it's the consistency of oatmeal; then you take all of that and rinse it out and strain it in a colander.

Add baking soda and knead it in. Break it up so it looks like pebbles. Then put it on a screen to dry. Let it dry overnight and it will be ready the next day. It doesn't have the fancy clumping capabilities of expensive kitty litter. But it does the trick, and the baking soda does a great job killing the odor, and it can save you $120 a year.
Unlike ABC, I'm actually going to credit them for their content, so here's the link to the whole article.  I really wish they'd do the same and link to me.
I'd even let them use the picture of my three-legged cat if they wanted.