Posted on
August 31, 2009

by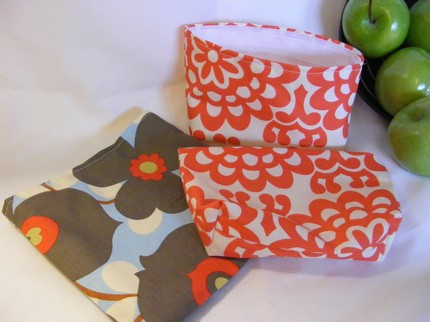 Ah, school days. Hands down, the best part about going back to school every year is,  stocking up on new school supplies. Even now, as a thirty year old librarian, the look of freshly sharpened pencils and crisp, clean notebook paper gives me shivers of anticipation. It's fall! It's time to learn things! And we are going to do it in style.
This year I wanted to make my New School Year Accessorizing a little more eco-friendly. Recycled notebooks and pencils made out of newspaper are all well and good, but I wanted something with a little more substance. Something with… pretty designs! And these resuable sandwich and snack bags fit the bill perfectly, so I ordered a couple from Green Street Bags on etsy, which also helps support local artists.
I had a few concerns about the bags; namely, would the Velcro that keeps the bags shut keep my sandwich and snacks from getting stale? After testing it out with a PB & Fluff I determined that, to my delight, it was just as fresh as it would have been out of a plastic bag. And I have a discerning palate, people. Stale Fluff is gross stuff. The crackers I had kept in the snack bag were also A-OK. As a bonus, when I opened my lunch bag I got an immediate grin to see such cute little bags in there! I just know once school starts that all my co-workers will ask where I got them and I will convince them to go green too.
My only other concern was keeping them clean, but that was super simple. All I had to do was turn the bags inside out and wipe them down. They're also machine washable and they are 100% cotton. Hooray! Simple cleanup for when you have something gooey (Fluff) to stuff into one of the bags.
Now all I have left to do is trade in my taste buds for those of an actual adult. I mean, I'm sure the spoonfuls of refined sugar are great for my health and all but I wouldn't want to be mistaken for one of the students.