Posted on
January 22, 2009

by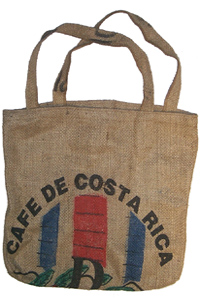 Douglas Farquhar, Director of Business Development for ReJAVAnate, took some time out to answer some questions about ReJAVAnate's coffee burlap bags, working with the Arc, and going green.  Read what he had to say, and leave a comment below for another entry in the ReJAVAnate bag giveaway.
1. How did Rejavanate come to be?  Who had the idea of making bags out of coffee burlap, and what was the journey from idea to product like?
ReJAVAnate was created by a gentleman in Portland, OR who we had worked with and had asked us to take over the program.  They had actually had a friend who was making the bags in their home, and thought it would be a good project for the ARC to take on.
2. Where does the burlap come from?
The burlap comes from coffee roasters who receive 50 and 100 lb bags of beans from all over the world.  They slice the bags open, pour the beans into the roaster and generally throw away the bags.
3. Why do you think it's important to give new life to coffee burlap?  What would happen to the material otherwise?
We live in a society where most things are disposable.  Given some thought and planning, there is often a way to reuse and recover what would otherwise be thrown away. Coffee our nation's second largest commodity next to oil ~ and I certainly do my best to contribute to the demand for coffee.  Needless to say we throw out a lot of burlap so that we all can drink coffee ~ an estimated 800,000 tons annually in the US alone.  Generally the burlap goes to landfill.  The good news is it is natural and biodegradable if given the chance.
4. Tell us a little bit about Rejavanate's partnership with Arc.
We have worked with the ARC for a couple of years now and they have done a number of things for the program throughout that period including sourcing the burlap from the roasters, sorting, cutting and prepping, and the actual sewing of the bags.
5. How do you make the bag manufacturing process easy on the environment?
The manufacturing is pretty straight forward and not intensive from a resource perspective.  The sewing is done in a warehouse which essentially requires lighting and electricity for the sewing machines – that is about it.  There is transportation getting the burlap from the roasters to the sewers, and then to the end consumer.
5. What green practices do you maintain at home?
Our reusable bags of course, and in addition the more notable activities include being big users of reusable water bottles (Klean Kanteens), all our cleaners have no harsh chemicals (EPIC), we use biodegradable plastic bags (BioBags), we compost, all our landscape is maintained with hand tools, we have made our house energy efficient and I drive a Hybrid.
6. What do you think is the most important thing the average person can do to lessen their negative impact on the environment?
Just begin to take steps towards change.  A good place to start is taking a good look at what you throw away.  I like to try to make a game out of it – see how little I can get in my garbage bin and make sure that I maximizing the recycling and yard waste bins.  Consumption is a big part of this and if you have to buy something, making sure you purchase things that will last.  Energy efficiency and water usage are other areas that with a little effort and some investment, you can make a positive impact for both the planet and your wallet.
Thanks, Doug!