Posted on
June 1, 2009

by

Aventura Clothing recently was kind enough to send me a few samples of their eco-friendly clothing. Since I'm always looking for renewable, recycled and/or organic clothes, I was more than happy to receive them with the promise of reviewing them for all you Allie's Answers readers. (Plus, they were free. Being a blogger has its perks, y'all.)

Aventura's motto is "help the earth … one garment at at time." More than 80 percent of the fabrics used in the Aventura line are low-impact, with a high percentage of renewable, recycled and/or organic fibers.  The company embraces an approachable, reasonable view of sustainable clothing, aiming to reach women who want to wear clothing that looks good and fits into an eco-friendly lifestyle. As the green movement gains steam, more and more women are asking questions about the clothes they buy, and with Aventura, those questions can have positive answers. If you like what you see here, be sure to check out Aventura's web site at www.aventuraclothing.com/home.do.

Without further ado, on to the fashion show!

First up: The Ballari Hemp & Organic Cotton Shorts ($57)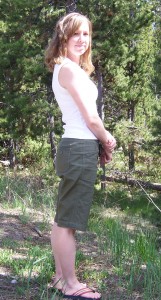 These shorts look and feel a lot like linen, except they don't wrinkle as soon as you sit down. They're remarkably soft, and they're perfect for hiking. To be honest, I don't think long shorts like these look all that great on shorties such as myself (I get a strong Oompa-Loompa vibe every time I wear long shorts or capris) but on a person who's a bit taller, they'd be very cute. I'll probably wear these for hiking, as I said, but they can easily be made into a nice outfit with the right top and shoes. I'm wearing the olive/indigo color, which is a nice neutral that can be paired with all sort of top colors. These shorts also come in mocha bisque and angora.
Next: Addison Organic Cotton Stretch Skort ($55)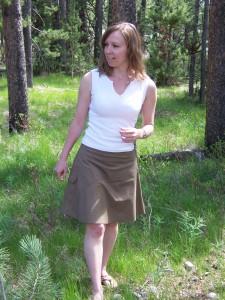 You know, skorts get a bad rap. I don't think I've worn a skort (skirt + shorts = skort, for the uninitiated) since about 1993, but if all skorts could be as cute as this, I'd say it's high time they made a comeback. This has the appearance of a normal skirt, but there's some very soft material inside that makes shorts underneath, making this garment very comfortable. I'm wearing the Shitake color, which is a lovely natural brown, but it also comes in barley, black, dove and sea grass. It's nice enough to wear to a casual dinner, or pair it with a nice top and a pair of heels and you have yourself an outfit for work.
Next: Aquinnah Organic Cotton & Soy Stretch Tank ($47)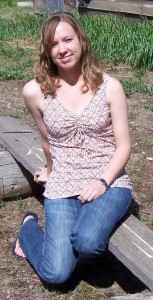 This is a very nice, casual tank top with some added detail around the bust to make it interesting but not too busy. It's partially made from soy, which is very cool, but it has the look and feel of cotton. It's very sturdy and I have no doubt it'll keep its shape even after several washings. The shirt is a bit long on me (which is not Aventura's fault; most tops tend to be long on my freakishly short torso) but it could easily be tucked into a pair of belted jeans for a sleeker look. I also like the print a lot, but another darker print called carafe is available as well.
Last: Pebbles Organic Cotton Stretch Halter Dress ($55)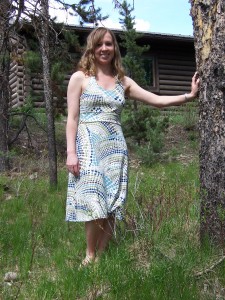 This is my favorite thing Aventura sent to me. I like wearing dresses in the summer because it's a good way to look cute and stay nice and cool at the same time. This one fits very nicely; it ties behind the neck so it's adjustable, and it has a built-in shelf bra for support. It's fitted through the bodice and then flares out into an A-line skirt, and it's machine washable. I'm wearing the green olive color scheme, but the same print is available in golden orange.
Thanks to my boyfriend Mickey for the photography, and especially to Aventura for the clothes. I'll definitely be shopping there soon!