Posted on
December 14, 2011

by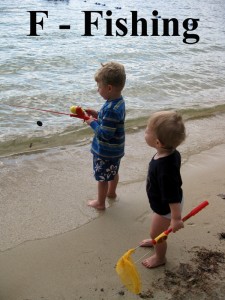 No one enjoys talking about it, but the costs of the holiday season really accumulate. Between numerous trips to the grocery store for special holiday foods and baking supplies, and drives to department stores for gifts and decorations (or if you're like me, strolls to the laptop on the kitchen table to make sure Amazon stays in business)  we may tell ourselves, "It's okay! It's the holidays . . . I'll get my budget under control again after New Year's Day."
But is it okay? Maybe . . . maybe not. It depends on your perspective and values, and there just isn't a right or wrong answer.  Some argue that consumerism drives the holiday season. Some people, such as moi, like giving holiday gifts and enjoy the whole holiday season. I like it, I really do!
But, this year has to be a little different. My husband lost his job a couple weeks before Thanksgiving and I just cannot afford to purchase gifts for everyone I care about. Nor would they want me to, because they care about me too.
I did say purchase gifts. Did you catch that? Remember I like giving gifts, so there is no way that I am going to let a lack of an income get in the way of that! My solution? Make gifts myself – a homemade holiday – just like in the olden days!
Children are especially fun to give gifts to. For them, a gift is something special and magical. I've never met a child who does not love "play food," so that is what I decided to make. It came out so cute, that I decided to sell it and create an Etsy page (which is a work in progress, so I'm not sharing the link yet!).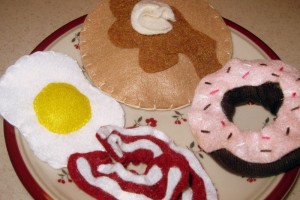 There is webpage after webpage, and book after book that contain ideas for do it yourself gifts. If you are talented in the kitchen, try giving a "Sweet of the Month Club." The recipient of the gift receives one baked good/month for one year (this is what I gave my father-in-law this year). Give a child homemade play dough (candy cane and gingerbread are popular holiday scents). If you are handy in the workshop, creating a small wooden boat to give to a child is green and saves green! Share a box of handmade ornaments cut from cinnamon dough – trust me, they will still smell amazing three years later! Would a little girl you know love a new dress-up tutu? They are sweet, easy to make, and cheaper than store bought. Try using Snapfish or another website to create a photo book (the picture on the top of the page is from an ABC photo book that I made for my children about their summer).
The thing about homemade gifts is that they are almost always appreciated because of the extra time and thought that went into creating them. When I receive a homemade gift I think to myself, "Wow. This person made this gift just for me."
If you don't have the time to make a gift yourself, I suggest checking out local craft fairs, art galleries, or shopping online from Etsy or a similar website. Or, ask a crafty friend to help you out. Maybe you could exchange talents – she could knit you a scarf to give to your mother and you could bake her dozens of cookies for her holiday party.
Through making homemade gifts, such as my Play Café Breakfast Set, I've discovered how much I love sharing my talents with others. I would like to give away one set of play breakfast food to a Greenists reader (set includes four donuts with a box, two pieces of bacon, one pancake, one sunny-side up egg, and one customized breakfast menu). Maybe she/he will keep it! Maybe she/he will give it away to a child in their life as a part of their effort to make a homemade holiday. To enter, simply leave a comment below sharing what your favorite homemade gift to give is, or about the best homemade gift you ever received. Only US residents may enter. Entries will be accepted through midnight, Sunday, December 18th, 2011. The recipient will be chosen by a random number generator and announced on Monday, December 19th, 2011. Good luck and Happy Holidays to all!