Posted on
November 22, 2010

by

Please welcome today's guest poster, Maria Rainier.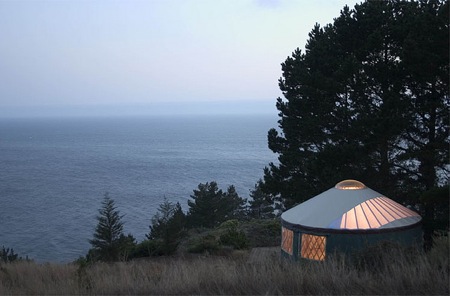 Image credit: http://www.flickr.com/photos/emdot/16684459/
While it is true that no one can do everything and everybody can do something for our planet, some Greenists are going farther than others. The very base from which they work is green, something that cannot be said for most of us who live in apartments or houses of our own.
What Is a Yurt?
The yurt is to the solar-paneled home as a bicycle is to a Prius—they're all steps in the right direction, but the former is several steps ahead. Pronounced "ger" in Mongolian, a yurt is a portable, traditionally felt-covered, wood-latticed framed home of nomads in the steppes of Central Asia. Some might equate it to a modern-day tent, but this is far from the truth. A yurt is decided more homelike, with thicker walls for insulation and protection from the elements, and holds a greater symbolic meaning (in Turkish, "yurt" also means homeland).
Since their traditional use by nomads in times long past, yurts have served as sustainable, virtually footprint-free homes. The felt on the walls came from the sheep kept by pastorialists and the nomads acquired wood used in the lattice work from trade. The frame of the yurt supports itself by its own weight and compression, and one or more columns support the crown. All of this can be set up and dismantled in the space of a day and rebuilt elsewhere, even for modern day nomads.
Modern Yurts and Green Living
Although today's yurts rarely use felt and instead utilize canvas or architectural fabric, the structure maintains its spirit of compatibility with the earth and those who appreciate it. They are never pegged down and require no digging, and the only carbon footprint they leave behind comes from the individuals residing or visiting it, via cooking, etc. Even lighting can be acquired by solar-power and the central dome skylights and windows that come with more modern yurts. Harder shells for more permanent yurts can withstand more severe weather than can traditional ones, but all in all, one can find similar comforts in a yurt as one can find in a traditional Western home.
Yurts for Bonding
The greatest difference, however, has less to do with being green and more to do with being together. In a typical suburban home, each child has his or her own room with his or her own TVs, and more conscientious parents must think up new and original ways to get their family to act like one.
The yurt's utter lack of privacy is at first the most unnerving aspect of it but is also its greatest boon. In one, individuals are forced to face and interact with one another, creating a powerful sense of belonging and unity. This also makes yurts great homes for individuals, couples, and smaller families, and even great alternatives to traditional guest houses. Moreover, yurts can serve as classrooms or studios for meditation, yoga, and other activities, perhaps most notably group therapy.
In modern living, we have learned to live as independently as possible. This has its merits, but at the end of the day, human beings are social creatures.  Yurts can serve as a permanent alternative to or a welcome break from our lonely lives, and promote green living and interpersonal harmony.
Maria Rainier is a freelance writer and blog junkie. She is currently a resident blogger at First in Education, researching various online degree programs and blogging about student life. In her spare time, she enjoys square-foot gardening, swimming, and avoiding her laptop.