Posted on
September 16, 2008

by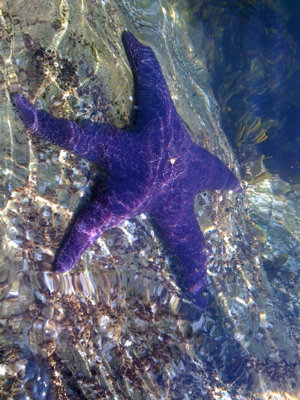 We spent the first couple days of our trip in Seattle (and got to go to the enormous REI store, which is like the mothership for people like me).  I'm not big on touristy stuff, and neither is J.  I hate crowds, and don't tend to enjoy any sort of attractions that have a snow globe in their honor, so we avoided the Space Needle.
We did head to Pike Place Market for dinner one night, and went to the weird section of Green Lake Park that used to have tons of domestic rabbits running around.  The last time I was in Seattle, there were bunnies everywhere (for some reason people just decided to drop off house pets they no longer wanted, which is really sad, except that it was cool to see this wild colony of domestic bunnies.  I'm not sure I even want to know what happened to them.  Doesn't Crunchy Chicken live in Seattle?
One thing that struck me as bizarre is the blackberry bushes loaded with blackberries EVERYWHERE in Seattle.  I was craving them and so tempted to pick some for a snack, but I figured if they were okay to eat, there wouldn't be any left.  Apparently, that's not the case.  Lady took us blackberry picking later on in our trip, and said that there are just too many blackberries for people to bother.  Crazy!  Not that blackberries would totally solve a food crisis, but it seems ridiculous to me that the blackberries are just left to die on the vine like that.  We pay 4 bucks a pint for them at the farmer's market here.
On Sunday, the day after Lady's wedding, we skipped town and drove up toward Bellingham.  As much as I'd like to be, I don't think I'm a city person, and I was so ready to be done with the chaos of Seattle.  We were going to camp at Baker Lake, but when we stopped at a convenience store on the way the guy behind the counter told us Baker Lake would be insane (holiday weekend) and directed us to Larrabee State Park.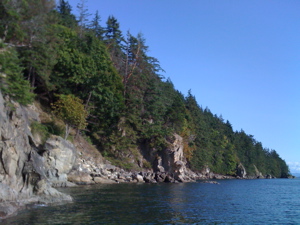 We did a little hiking at Larrabee (amazing starfish sightings) and headed into Bellingham for dinner.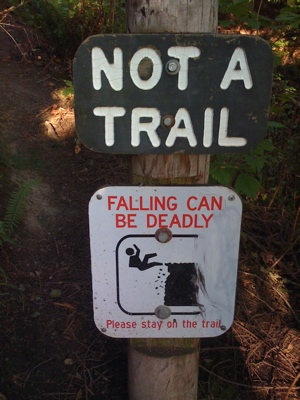 We had no specific plans for our trip, aside from planning to be back in Seattle on Friday to meet up with Lady and Mr. Lady to go camping on Orcas Island, so we could have stayed put for a couple of days, but the Larrabee campground was kind of loud, since there's a train that runs right next to it.  We'd also woken up at 3AM to animal screams (we later decided it was raccoons mating, but if you somehow know for a fact it's not raccoon mating season, and the screams were actually an R. O. U. S. eating a small dog, as it sounded, I don't want to know), which made us crabby and added to our desire to move on.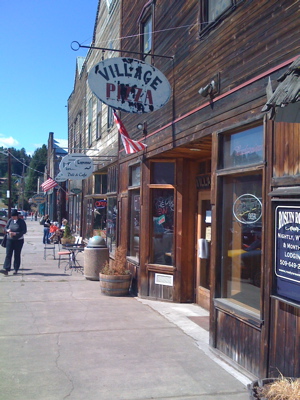 On Monday, we headed to Roslyn, the filming location of the best television show ever created ever, (since this falls into the geeky writer part of my life, check out the details of our trip to Roslyn on Incidents and Accidents if you're interested.).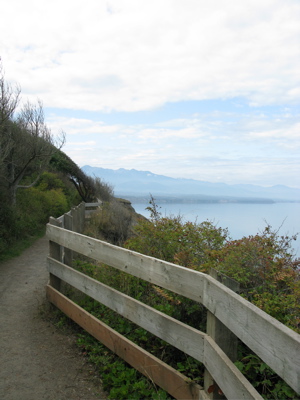 After we left Roslyn, we settled in at the Dungeness Recreation Area (which is a county park), right next to the Dungeness Sand Spit.  I have to say that in my short career as a camper (I'd never been until I met my husband), this campground is my favorite (although the Tsunami Evacuation Route sign was a little disconcerting).  Our enormous, private campsite was about ten paces away from a huge bluff overlooking the Straight of Juan De Fuca, and we fell asleep every night to the sound of the waves.  All for 18 bucks a night (plus pocket change for the showers).  Not too shabby at all.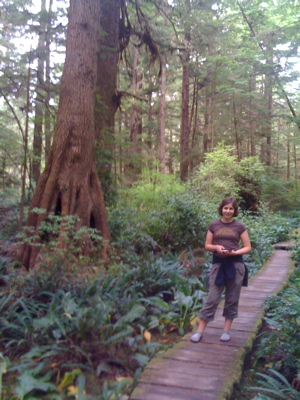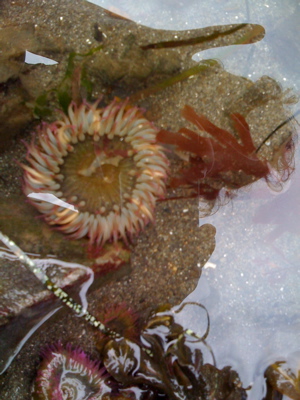 On Tuesday, we drove out to Lake Ozette (with a quick stop at Lake Crescent on the way), and took the Cape Alava Trail to see the tidepools.  Most of the trail is made up of a wooden boardwalk.
There was a colony of sea lions on the island just off shore, and we could hear them arf arf arfing the whole time we were out there.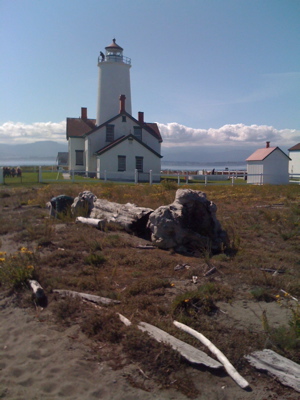 On Wednesday morning, we did an 11 mile round trip hike out to the lighthouse at the end of the Dungeness Spit.  The lighthouse is staffed by volunteers who stay out for a week at a time (after spending at least a year on a waiting list).  The volunteers are driven out to the lighthouse and have to bring their food and everything else they'll need for the week in one haul.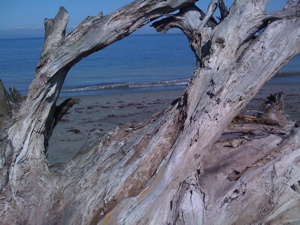 The view from the lighthouse was amazing, and the hike in the sand was an excellent workout.  We saw sea lions swimming off shore.  Since I'm obsessed with marine life, this was absolutely one of the highlights of the trip for me.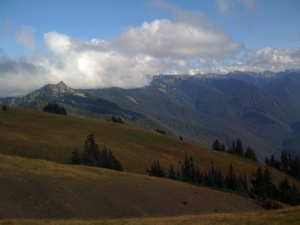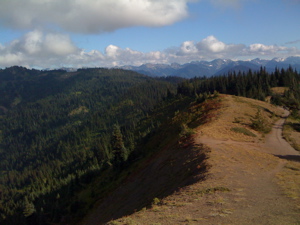 On Wednesday afternoon, because neither of us really know the meaning of the word relax, we hiked on Hurricane Ridge.  I was really touched by how accessible it was.  The views were amazing, and the path to get there was an easy hike.  Families with strollers and elderly couples were there hiking alongside hardcore backpackers.  It was a great thing to see, and I think that kind of accessibility is a great way to build a love and appreciation for nature in people who don't usually consider themselves the outdoorsy type.
Check back tomorrow for Part 2- The Hoh Rainforest, Mt. Constitution, and the naked history of Doe Bay.