Posted on
August 12, 2010

by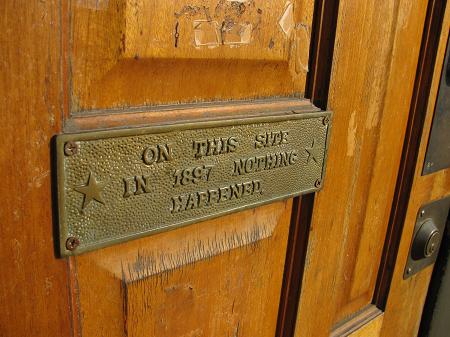 Courtney and I are on the road this week, checking out what's old in New England and leaving an acute shortage of lobster and local beer in our wake. We had the extreme pleasure of getting dragged all over the greater Boston area for the past four days by fellow Greenist NPW (who also let us crash on her floor for the duration.) Bonus points were scored on Monday when we met up with Howling Hill for lunch and some sightseeing, making it an even four Greenists tromping around the north end of Beantown. For an afternoon at least, Boston was green-blogger central.
During our journey over the past week, we've had plenty of opportunities to contemplate some of the impacts of traveling and the stark differences between the city we came from, Atlanta, and the places we've been traveling through:
- Free hotel breakfasts waste  a whole mess of styrofoam plates and plastic utensils. I was really happy to have scored some reasonable lodgings through Priceline.com that included breakfast, and the food on offer wasn't too bad, but the petroleum-based garbage created as a result was discouraging. Next time, I hope I can remember to travel with my own mug and cutlery to cut down on some of this unnecessary waste.
- In the northeast, public transportation is for real. In Atlanta, and I'm sure lots of other cities, it seems to be an afterthought. While it was necessary to drive from NPW's house into the city, we always parked near a T station and rode the rest of the way downtown on Boston's great transit system. It goes places people want to be and the people of Boston, visitors and residents alike, use it. In Atlanta, public transportation is treated strictly as a way for people without cars to get around, not as a way to get people out of their cars.
- The people of New England support local business. Anyone who visits the northeast from other parts of the country should notice the proliferation of mom-and-pop pizzerias. All over I see places like Pat's Pizza or Frank Pepe Pizzeria Napoletana, national advertising campaigns nowhere in site.
- I support local business, too. How can you not when that includes so much great seafood and beer? Courtney and I both had lobster rolls for dinner last night in Portland and then wandered down to the wharf and took some pictures of lobster pots stacked on the docks. About one city block from boat to plate- how great is that?
- Yep, we drove here, and that's a lot of gasoline. There were two of us in the car though, and the car is a Honda Civic, and we were getting 40 mpg. That beats an airplane, or so they tell me. Sure, we could have ridden our bikes or jogged the 1,000+ miles each way, but that wouldn't have fit our schedule and I've made my peace with it. I don't necessarily like the impact we've had, but somebody had to come up here and check on New England.