Posted on
March 14, 2008

by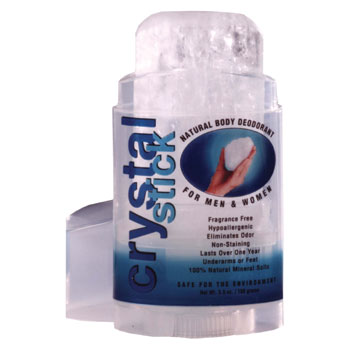 No, I'm not saying you smell.  I've been reading You: Staying Young, and this is one of the health tips offered, so I thought it might be a good idea to talk about the difference between deodorant and antiperspirant.
Sweating is normal, natural, and good for you.  It's one of the ways your body releases toxins.  Don't inhibit it.  Antiperspirant does just what it's name says — it inhibits sweating — often through ingredients like aluminum salts, which may or may not be a health issue, depending on which reports you read.
Deodorant is the way to go.  It lets you sweat, but helps stop odor by controlling bacteria growth in your armpit.  The added bonus is that it's easier to find a natural deodorant without a bunch of scary ingredients (like talc), than it is to find a natural antiperspirant.
Tom's of Maine has some good deodorants, and Desert Essence deodorant uses tea tree oil to combat odor, although both contain propylene glycol, which is a petroleum derivative.
You can use a crystal deodorant, which comes in many forms, including an actual chunk of alum crystal that you wet before rubbing in your armpit.  I haven't tried The Crystal, but I have tried TCCD's roll on crystal deodorant, and I really like it.
Care 2 has two recipes for making your own deodorant, and I can't wait to give them a try.
The trick to wearing natural deodorant is to put it on IMMEDIATELY after you bathe.  Make sure to wash your armpits well, dry them, and put deodorant on before you have a chance to sweat even the tiniest bit.
And only wear deodorant when you need to.  If you're out hiking or running or working in the yard, it's okay to get a little stinky.