Posted on
June 1, 2007

by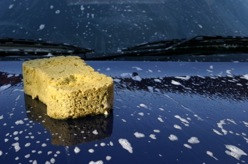 Treehugger has a great list of water saving tips. As the owner of a very dirty car, I was particularly interested in this one:
"Wash your car on the lawn instead of the driveway. The water will help the grass, but don't forget to use eco-friendly car wash."
Stumped on what to use for an eco-friendly car wash? Try using a gentle, biodegradable dish soap. When I wash my car this weekend, I'll probably use warm water and Ecover's Herbal Dishwashing Liquid.