Posted on
August 20, 2008

by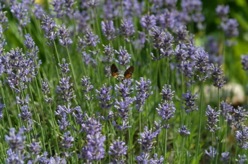 We vacuum up a lot of dog hair in this house.  As a result, our vacuum cleaner smells like dog (even with regular filter changes) and running it leaves a distinct odor in the room.  Here's my new trick for keeping the dog smell to a minimum.
We have two lavender plants in the back yard, and a few weeks ago, I cut all the flowers and hung them upside down in the garage to dry.  Now, before I vacuum, I sprinkle a little dried lavender on the rug before I start.  I like to leave it there for a few minutes so I can kid myself into thinking that it will make the carpet smell better.  When I vacuum it up, the vacuum spreads a lavender scent through the room.  So much better!
I'm thinking of mixing up a concoction of baking soda and lavender to use as carpet/room freshener.