Posted on
June 13, 2008

by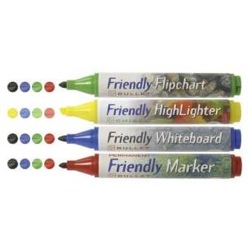 Asthma Mom asked about ways to reuse dried out old markers. Here are a few ideas.
First up, make sure the markers are really done for. Try reviving dried out markers by pulling the ends off and adding a few drops of water or water mixed with vinegar to the marker. If you can't get the end off, try soaking the tip for a few minutes.
Jumping Monkeys uses the leftover color in old marker wicks in cups of water to teach her kids about colors and how colors change when mixed together.
I did a little brainstorming and think that, if taken apart and cut carefully (by an adult), plastic marker tubes could be made into beads for making necklaces and other crafts. They could be painted or used as is.
You could also string the tubes together and add some handles to either end to make a jump rope.
Glue the markers to a cardboard cut out to make a picture frame, or around an empty, cleaned out juice concentrate tube to make a pencil holder.
Take the insides out and thread some sparkly streamers or bits of yarn through an old marker to make a magic wand.
Or even just give them to your kids and ask them to brain storm. Maybe a bunch of marker tubes will get tied together and become a raft or other tub toy. Maybe they'll make great supports for a tiny tee pee or tent. Or something even more fabulous!
And when you're replacing old markers, look for an eco-friendly option, like these markers from Natural Collection. The tubes are made from wax paper and they are free of icky solvents. Sadly, they aren't in stock at the moment, but hopefully, they will be soon.
Or, make your own. Science Buddies has instructions to make markers at home. It's a little complex, but it might be fun.
If you're using markers for fabric crafts, etc., check out these, which can be refilled with your choice of dye indefinitely.