Posted on
January 4, 2008

by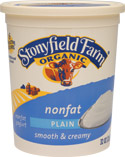 Lauren e-mailed me last week with an interesting eco-friendly tip:
"I was looking around the internet today for a way to use VERY expired yogurt, and came across this great post at You Grow Girl: http://www.yougrowgirl.com/thedirt/2007/06/12/tomatoes-like-milk/. She explains how to use expired milk to feed your plants, AND in the comments section, someone offers their recipe for making ricotta from expired milk. Just thought it was kind of a cool idea. It sounds like a really cut down mixture could be used with expired yogurt as well, but do you have any great, green ideas for old yogurt to share?"
I'd never thought of things to do with expired yogurt, but I love that Lauren is even looking at expired yogurt as a recycling opportunity.
I poked around and found a few more interesting things to do with yogurt.
Reader's Digest has a "recipe" for making moss paint out of expired yogurt and moss you have growing in your yard.  Mix it up in a blender and paint it on terracotta flowerpots, the stones in your garden, between your walkway tiles, or anyplace you want moss to grow.
If the yogurt isn't too far gone, but past the point where you want to eat it, Reader's Digest also has recipes for facial treatments, finger paints and sunburn relief.  Check out all the recipes here.
Also, check out some of the things yogurt can help you with before it goes bad — it can help your body fight everything from yeast infections to asthma attacks, diarrhea and possibly even cancer.
Thanks, Lauren!