Posted on
February 7, 2008

by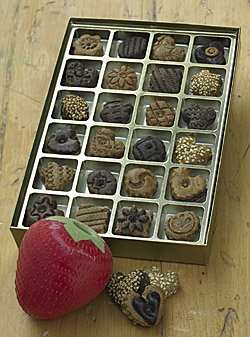 Is your dog the love of your life?
Treat him an organic box of goodies from Organic Style.
"A play on the traditional Valentine's Day gift of strawberries and chocolates (of course, these treats do not contain chocolate, which is dangerous for dogs), these organic treats are filled with high-quality, yummy vegetarian ingredients, including organic rye flour, organic barley flour and organic egg glaze. We paired these freshly baked, homemade treats with a bouncy fun toy for hours of chewy entertainment. "
They also come with a non-toxic, recyclable toy.
If you're going to spoil your dog, spoil him in an eco-friendly way.