Posted on
February 26, 2008

by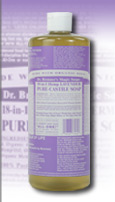 I'm obsessed with Dr. Bronner's Organic 18-in-1 Hemp Lavender Pure-Castile Soap. Over the past two weeks I've used Dr. Bronner's to wash almost every surface of my house, and I still have half of my tiny 4 fluid ounce bottle left over. Just a few squirts in some warm water cuts dirt on kitchen floors, but it's gentle enough for your skin too.
The bottle is crazy. Snippets of scripture and sentences that start out talking about one thing and end up talking about something completely different. There's text on every inch of the label.
One of the blocks of text includes instructions for a water saving sink bath.
"For facial packs, scalp & soothing body rub, add dash on bath towel in sink of hot water. Wring out. Lay over face & scalp. Massage with fingertips. Repeat 3 or 4 times 'til arms, legs & all are rubbed, always toward the heart. Rinse towel in plain hot water and massage again. Breathe deeply! Health is Wealth. Within 9 minutes you feel fresh and clean, saving 90% of your hot water & soap. . ."
Give it a try the next time you need to freshen up. Save water and soap!