Posted on
May 17, 2007

by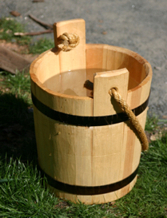 You could shower with a friend to conserve water. Remember those commercials?
Or you could keep a bucket in the shower to collect water that would otherwise go down the drain. Use the water to water plants, or the lawn, or mop the floor.
A bucket isn't as much fun as a buddy, but in the end, you'll probably save more water.
Another Eco-Friendly Tip from Allie.